Chamonix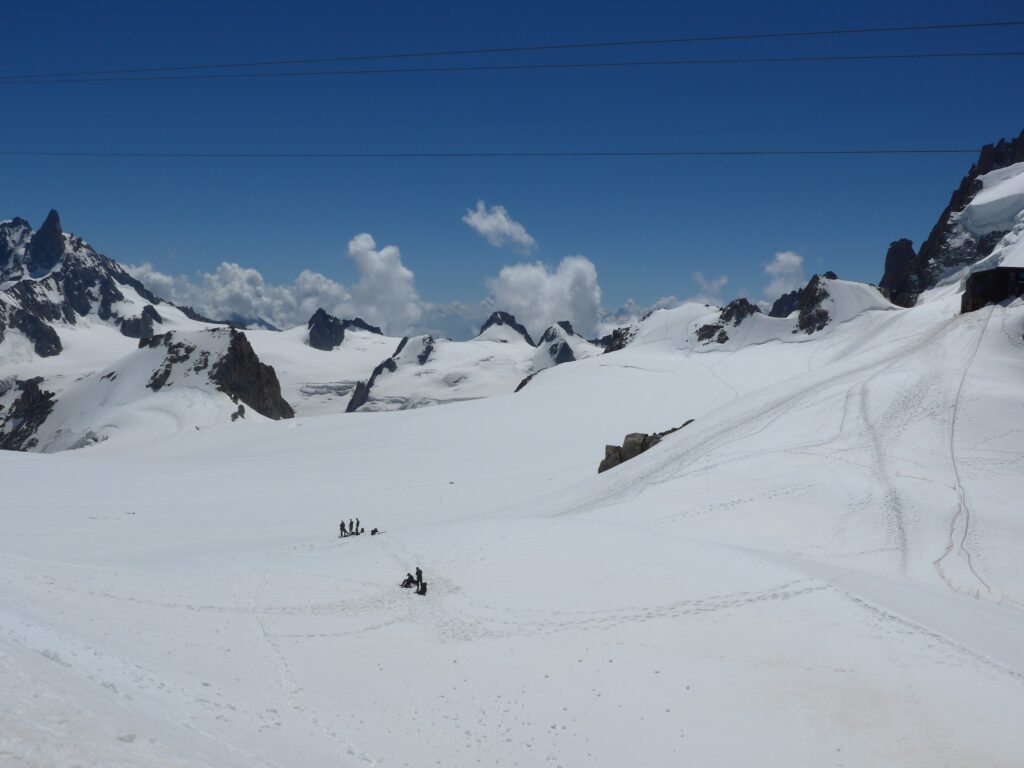 Discovering Chamonix – Part 2
For the second part of this trip to Chamonix, we capitalize on what we learned from the first few days and then add in some simple ice axe/crampon usage and have a great next few days of the trip! 
Tuesday 6/30
I wanted to get Rose a guide for a day so that someone with experience could introduce her to crampons and an ice ax. Man, was it worth it – she learned a ton! Aside from crampon/ice ax usage, the guide showed Rose how to move quickly, yet safely in the mountains. For example, Rose learned how and when it's a good idea to belay on a munter hitch on a single cam or bolt. She learned how to belay by wrapping the rope twice around a horn and when two climbers should move roped up together placing gear between the two of you (alpine simul climbing).
These latter three techniques diverge drastically from what we've learned in the world of crag climbing – "always build anchors with minimum 3 pieces of gear" and "always belay everywhere!". Rose learned how to make decisions that keep us moving quickly while preserving maximum safety.
For more information on this, I highly recommend a reading of:
While rose was climbing Cosmiques Arete (more on this later) with the guide. I went on a run.
Point Lachanel Traverse & Cosmiques Arete – Wednesday 7/1
On Wednesday linked together two short alpine routes Point Lachanel Traverse and Cosmiques Arete.
Climb: Point Lachanel Traverse
Style: Mixed Traverse. All rock gear.
Difficulty: Should be about 5.5, but we skipped the main rock chimney. More on that in a bit
Location: Top of the Aiguille du Midi
Time Required: Short half day
Thoughts: Very easy climb. Good way to get acclimatized and to get noobies moving around on crampons.
We skipped the rock section due to really high temperatures melting the ice holding the rock together. The rock chimney had become a messy trash chute, too dangerous to climb.
Below you can see the double humps and boot track going up Point Lachanel.
​From there we walked across the glacier to Cosmiques Arete
Climb: Cosmiques Arete
Style: SUPER high quality Mixed Traverse. All rock gear, crampons and non-technical ice axe
Difficulty: 5.6
Location: Top of the Aiguille du Midi
Time Required: Short half day
Thoughts: Easy but mega exposed climbing in a fantastic setting! Some epic moves on rock made in crampons.
Heres me doing the same move:
Because a lot of this climb takes placed on a snowy and exposed but non-technical ridge, this is great terrain to practice 'moving together' while roped up and keeping things safe.
I'll say it again – REALLY fun climb!
Les Lépidoptéres -Thursday 7/2
Back to standard (and epic) trad climbing!
Climb: Les Lépidoptéres (no joke, thats what its called)
Style: Chill trad climbing on good granite
Difficulty: 5.7
Location: Plan du Aiguilles
Time Required: 3/4 of a day
Thoughts: Decent climbing in a crazy setting. Good way to familiarize yourself with bigger routes in the area. Challenging route finding to get the base of the climb.
Easy climbing at the bottom up this flake/corner system.
Tune in next time when Rose and I tackle some more trad!