Chamonix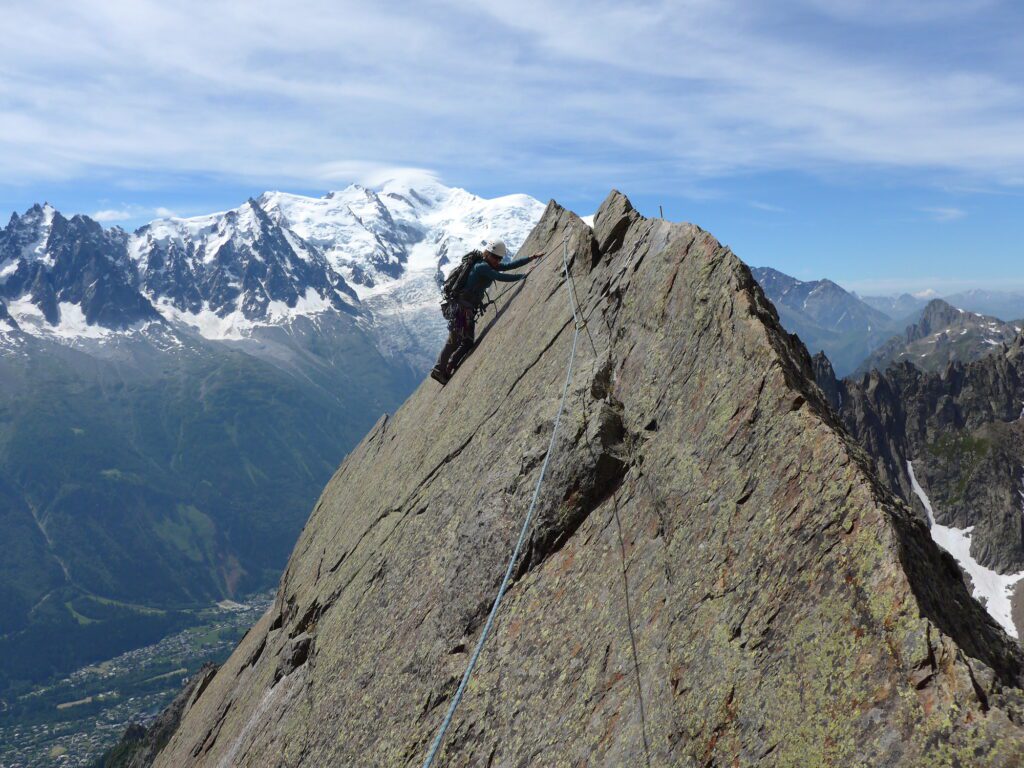 Discovering Chamonix – Part 1
​What Is Chamonix?
Don't expect to come to Chamonix and be the cool climber guy/irl. Sure, you'll be the object of amusement for plenty of tourist gawkers amazed that you just climbed 'that', but if you catch the first lift up the Aiguille du Midi in the morning, you'll see that Alpinism is the norm here.

"Did he just say lift? I don't want to screw around with a lift, I want to climb!" you might be thinking.

That's what I thought at first – for sure. Then I realized that for a few bucks a day (it's really affordable in the summer if you buy multiple days at once) I can have big mountain climbing – think Longs Peak, Cirque of the Towers, and Grand Tetons – without approaching for hours and walking up hill for forever. Don't worry, there is smaller stuff too.
Two Types of Rock
On the Aiguille Rouge side, there is nice gneiss. Handholds and bolts abound here. The elevation is lower and the routes slightly less intimidating. You can still get out for 1-7 pitch vertical hard climbs or do a fun ridge traverse (more on that later) all with stunning views of the Chamonix Aiguilles, Grands Jorasses, and Mont Blanc.

On the Mont Blanc side there are endless vertical oceans of perfect granite. Insane. You round a corner (on granite of course) already hundreds of feet above the start, and in front of you rises a complex set of walls five thousand feet above you. When this first happened to me, I happened to be climbing near a Polish woman who had recently moved to Chamonix for the climbing. I regained my composure in time to ask her if any routes went up 'that'.

It turns out that several do, but one of the most accessible (for that particular area anyway) is Voie Contamine.
​In general, routes break out into three categories here:
Rock – ranging from easy crags, to huge Big Wall climbs (see The American Direct on the Drus – yes you read correctly, that's over 6700 ft of gain in one climb. Good luck and bring a bivi sack.).
Ice – I haven't messed around with any vertical ice yet, but in the colder seasons, there's a lot of it here.
Mixed Rock and Snow – Chamonix, due to it's dramatic elevation variances and heavily glaciated terrain, holds snow at the higher elevations year round. At all difficulty levels. Do you want to play around with an ice axe while climbing mostly rock and be back to town in time for happy hour? There's a route for that (several actually). From there all the way up to world class mountaineering routes, it exists in Chamonix.
I know, I know – wtf is with this wall of text!? Get to the pics already!
​Things Done
Chrochues Traverse​
Saturday 6/27 – Morning Administrative items (groceries, pay for camping, etc.)
​
Afternoon we climbed – er – traversed. Think climbing meets speed. You climb easier grades and not always in pitches.
Climb: Chrochues Traverse
Style: Rock, traverse, warm up
Difficulty: 5.6
Location: Off the L'Index lift on the Aiguilles Rouges Side.
Time Required: Half day.
Thoughts: Good introduction to moving together with Rose while roped up. Placing gear, but not using a belay. Good exposure and views, VERY easy climbing. Ends at a sweet lake and a beer hut.
Cap'tain Crochues
Sunday 6/28 – Climb!
​
​Climb: Cap'tain Crochues
Style: Multipitch Sport – 5 pitches
Difficulty: 5.10c
Location: Off the L'Index lift on the Aiguilles Rouges side.
Time Required: Long half day.
Thoughts: Excellently spaced bolts on vertical to overhanging rock. Magnificent setting. Hard roofs to pull.

Route:​
Chapelle de la Glière: Arête S
Monday 6/29 – Big traverse day
Climb: Chapelle de la Glière: Arête S
Style: Traverse up an exposed ridge.
Difficulty: 5.10a
Location: Off the L'Index lift on the Aiguille du Midi Side.
Time Required: Full day.
Thoughts: Good practice in moving fast and safe – mixing belaying and simul moving/climbing. Simul climbing might sound dangerous, but are you really going to fall on 5.5? Okay, it's not impossible, so why not keep a few cams, nuts, and slung horns between you and your partner?
Remember, climbing is about reducing risk, not eliminating it – if you want to eliminate risk, play videos games or go shopping. If you want epic long days in the mountains where you reach a big objective, sometimes moving fast is more critical/safe than belaying every pitch.
We definitely belayed this pitch:
This is the first three days – we ramp up from here. More to come!