Ecuador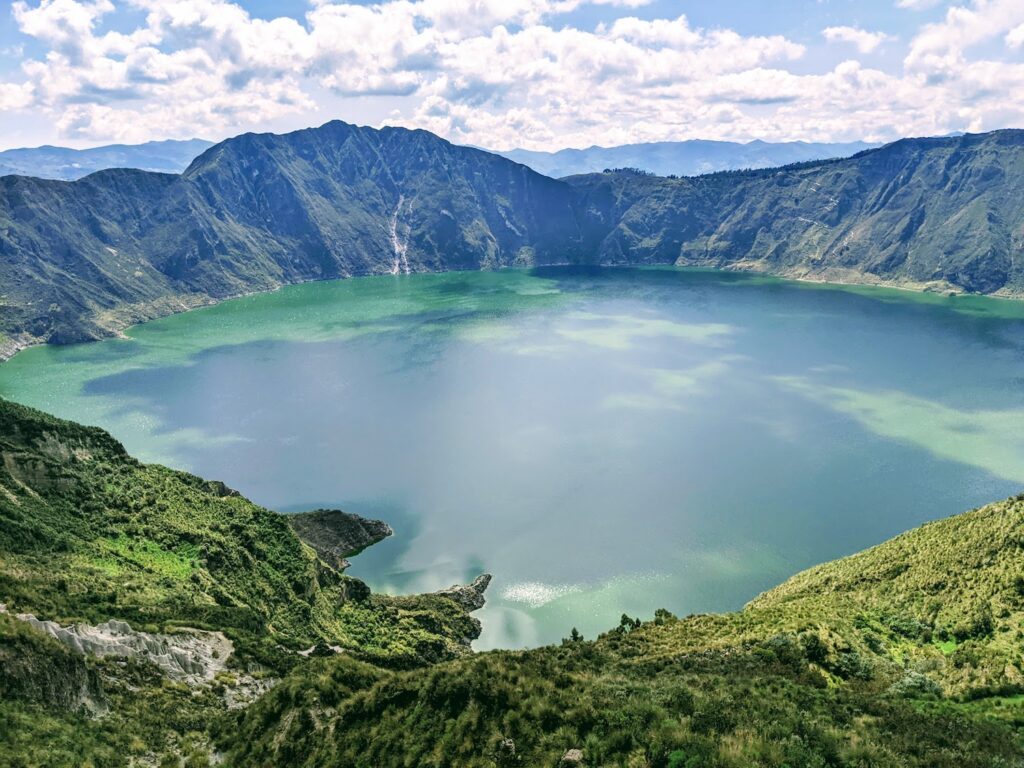 Hike the Quilotoa Loop: Hut-based Hiking in Ecuador
While spending two months in Ecuador this winter, one of the highlights was our hike of the Quilotoa Loop!
Activity: Hut-based Hike
Country: Ecuador
Start: Sigchos, EC
End: Quilotoa, EC
Distance: 21 miles
Elevation Gain: 7200 ft
Recommended Duration: 3 days
You may be familiar with European-style, hut-based, multi-day hikes like the Tour de Mont Blanc (TMB). All you need is a small back pack with layers, a few snacks, and maybe a kindle to hike a route over several days. You sleep in a hut and eat delicious breakfasts and dinners provided by the hut's caretakers.
Hiking the Quilotoa Loop is that, but in Ecuador. And the nightly accommodations cost ~1/5 what they do in Europe. And replace the Alps with the Andes.
Clocking in at just over 21 miles, you may be able hike the Quilotoa Loop in one long day, but why would you? This point-to-point hike (it incorrectly has the word "Loop" in its name) is best enjoyed split up into three seven-mile days. This slower pace allows you to enjoy the high-country farmland, spectacular rivers and canyons, the fantastic hospitality of small hostel owners, and its name-sake Quilotoa volcanic crater.
Quilotoa Loop Day 1 – Transfer from Quito, Hike Sigchos to Isinlivi
On the first day, we woke up early in Quito and had arranged to have an acquaintance (named Rafael) drive us from our apartment in Quito approx. two hours to the mountain town of Sigchos to begin our hike.
It would have been much cheaper (about $30 one way for public transportation vs. the $75) to take public transportation, but this would have taken much of the day and we wanted to hike instead of save $45.
The drive out to Sigchos was incredible! It was a clear day and we could see several of the surrounding Nevados (Ecuador's glaciated and snowy, tall volcanos) including Antisana and Cotopaxi, in the distance. We could also see several "smaller" 15-thousand foot peaks closer like the Ilinizas twin peaks:
Starting the Route
We arrived in Sigchos at 12:30 PM and wasted no time starting the seven-mile hike to the tiny village of Isinlivi. That afternoon took us through a steep valley, over a river, and through several small farming communities.
We found the trail to be well-marked. They are used mostly farming access trails and double-track used by tractors in between fields. The hike down into the valley was quite easy (albeit a bit steep in places), while the hike back up the other side was a bit more strenuous. Had we started the hike a bit earlier, we would have missed the heat of the day.
Just about three hours later, we arrived at our destination for the evening: the small farming town of Isinlivi. There are just two hostels in town to stay at: the luxurious LluLlu Llama Mountain Lodge with it's saunas and spa, and the more European mountain lodge-feeling Hostel Taita Cristóbal. Both offer private rooms and complimentary dinner and breakfast with an optional packed lunch for an additional small fee.
Hostel Cristóbal and New Friends!
Having booked the trip a bit last minute, LluLlu Llama was full and we took our room at the Hostel Cristóbal and were super happy with the rustic feel, kind and hospitable proprietor, and delicious food!
We got to hang out with some real life Llama's anyway:
Over dinner, we met some new friends Tjark and Nata Lia from Germany who are on a one-year sabbatical traveling the world. That's one of the benefits of staying in these hostel-style places vs. renting an entire apartment somewhere – you meet cool people! I find that accommodation type is a balance, we generally prefer our private apartment with a kitchen so we can have our privacy, work, and cook, but occasionally it's really nice to get a private room in a hostel and be a bit more social.
We'd be staying at the same place as Tjark and Nata Lia the next evening as well and were happy to share a few more meals with them!
We loved our stay at the Hostel Cristóbal and would recommend it to anyone hiking the Quilotoa route!
Quilotoa Loop Day 2 – Hike Isinlivi to Chugchilán
The morning of the second day, we woke up and had a delicious breakfast (with Tjark and Nata Lia of course!) and set out fairly early. The itinerary today was to actually re-cross the valley, while continuing to head upstream.
Though we were only hiking around seven or eight miles per day, the mixture of altitude, heat (during mid-day, get an early start!), and the steep grade of some of the trails made these seven miles tough!
The highlights of this day's hike were bushwhacking down ancient farming trails into the valley discovering spectacular views at nearly every turn and crossing the river on a rickety old foot bridge. (insert pictures and videos below
A very steep hike back up the other side of the valley, a brief walk along a not-very-busy road, and we arrived at our destination by late lunch: the Cloud Forest Hostel. It really did feel like a cloud forest up there – it was chilly! We got a fire going in a wood furnace, got some snacks, and settled in to read until dinner.
Dinner with our friends from the night before was excellent. We went to bed soon after, excited for the next day when we'd walk to the Quilotoa Crater!
Quilotoa Loop Day 3 – Hike Chugchilán to Quilotoa, Return to Quito
We woke up after a tough-ish night's sleep. Ecuador is a fantastic country, but they tend to let their dogs bark with abandon…
A quick breakfast and we were out the door! A possible culprit of the racket the night before turned out to be a super friendly, but very timid pooch who decided to walk with us the entire day!
No valley crossings this time! Just a gradual march up hill to a high-point of just under 13,000 feet at the rim of the now dormant Quilotoa Volcano.
The last two miles of this three-day adventure took us around the western ~1/3 of Quilotoa. This part of the hike is as engaging as it is breathtaking. The trail takes you along an undulating (and at times) knife-edge ridge with sheer drop-offs on both sides around the rim of the crater.
The end of the hike dropped us off in the town of Quilotoa and we promptly found a restaurant to eat at while we waited for our ride back to Quito to arrive.
Re-energized by our delicious meal, we practiced our Spanish with Rafael during the two-hour ride back to Quito.
The next day, we met up again with Tjark and Nata Lia for some food and a walk around Quito's old town. We hope we see you guys again soon!!
Be sure to reach out if you have any questions about hiking the Quilotoa Loop!