Cycling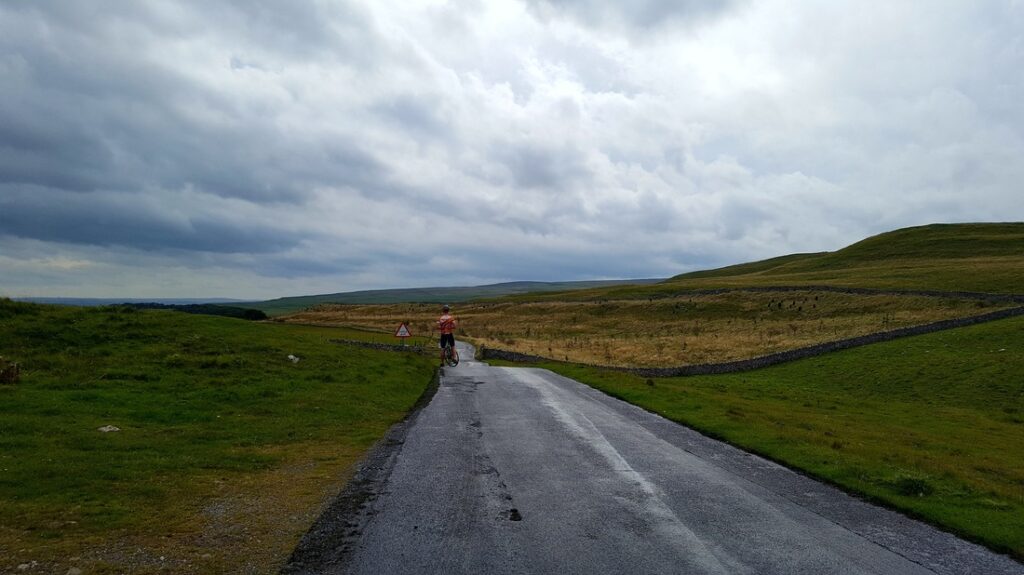 Cycling in the Yorkshire Dales
Late September, we spent two weeks based out of Harrogate in Yorkshire–located essentially smack dab in the middle of the UK. That point right where the rolling hills of southern UK turn a bit more serious, hinting at the rugged, mountainous landscape of Scotland further north.
In the interest of seeing as much as possible on two pedals, we rented Treks bikes from a local business, Norm's Cycles, in nearby Darby. Would definitely recommend renting from here if you are in the area.They have affordable prices for renting new, middle-of-the-line road cycles. 
Right out of Harrogate, there are an endless number of roads excellent for cycling. These range from the standard two-lane peppered with light traffic, to single-lane paved roads snaking between vast farmland. The sheep to car ratio is about 500:1.
North of Harrogate is the Nidderdale AONB–that is, Area of Outstanding National Beauty. Part of the enjoyment of cycling in the UK is marveling at the incredible creativity with which Brits name things. Roads, regions, restaurants, and bars, everything has a name which makes you smile. Nought Moor Road, the Blubberhouses, and The Squinting Cat are just a few which stood out. 
Aside from the endless farmland, stone fences which make you harken back to Braveheart times. The small towns you pass through or lone stone cottages dotting the road are nothing short of exactly what your imagination conjures when pondering idyllic British country-side scenes. That is to say, it is truly wonderful. 
Most of our rides were within twenty miles of Harrogate, However, one day we ventured out to the Dale's National Park, about a forty minute drive northwest to go for a fifty mile ride. We created a loop on Strava, trying our best choose a route which would take us to remote roads in the park. That turned out to be easy to find. We rode mostly on single-lane roads surrounded by countryside, sheep, and not much else. There were enough small towns though, that we could pop into a bar to warm up, grab a beer and a burger, and mingle with the locals drinking away a Saturday afternoon.
Two other things worth mentioning. When locals talk about "punchy climbs", they are using the standard understated British way of expressing "the climbs here are insanely steep and make you heave like a buffalo breathing through a straw and zig zag up like you just drank five beers before hopping on your bike." 20% or higher grades is not unusual. 
Finally, weather. The stereotypes are indeed true. British weather is quite…unpredictable. I think the above photos capture this nicely. They are taken from opposite sides of the same road at the same time. It seems quite normal to leave for a ride with blue skies and warm (okay warm-ish) weather, only to meet blustery winds and a rainstorm or two half way in.
All in all, I was surprised to find that the UK is an adventurous and wildly beautiful place to cycle. Put it on the list.