Europe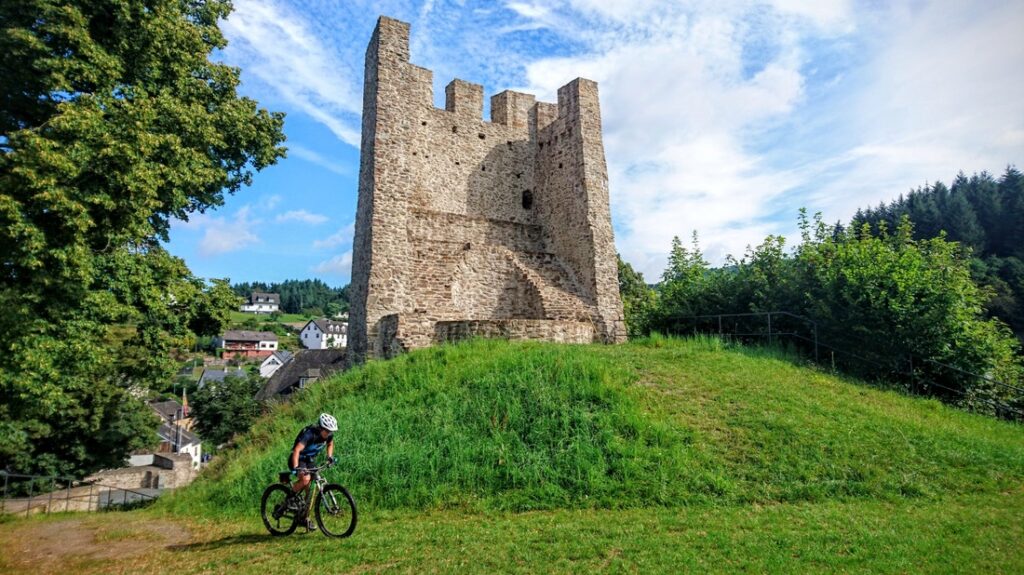 MTB on the GR5 – Part 3
Mountain bike tour on the Grand Randonee 5 from Genk, BE to Ettelbruck, LU.
Day 4 – Single Trail and Hike-a-bike
That hotel in Cornelyshaff had some of the greatest food I'd ever had. Both breakfast and dinner were phenomenal. Probably partially due to how hungry Rose and I were, but also all the food they served was locally grown/made.
​
After breakfast, it was back down the road and into the Our River Valley again. MMMMM more of that single track from the day before!
We took a break from the GR-5 for a bit, got some coffee.
Rode the bikes up by an old castle that looked like it needed some MTB riders to visit.
And followed some GPS tracks I had downloaded that avoid some of the hike-a-bike sections on the GR-5 north of Vianden. It was still some cool riding.
About 8 miles north of Vianden (our destination), we got back on the GR-5. The trail is signed in Luxembourg by the yellow circle and blue background marking. We got back on trail just in time for a 350 foot hike-a-bike to some incredible views.
We ended the great riding on this shorter mileage day with a techy downhill from the castle above Vianden down into town. We found ourselves a pre-dinner dinner, dropped our bikes off at the accommodations, came back out for actual dinner, headed back, and passed out.
31.3 miles on the day with 4,758 feet of climbing. Not bad!
Day 5 – Finishing Up
The next day was a short single track, double track, paved bike trail ride from Vianden to a town called Ettelbruck. Though it was only 14.7 miles, we still got up pretty high and had some great views.
We arrived in Ettelbruck with time enough for a well-earned cappuccino in the main square before our train took us back to Rose's car in Stavelot.