Croatia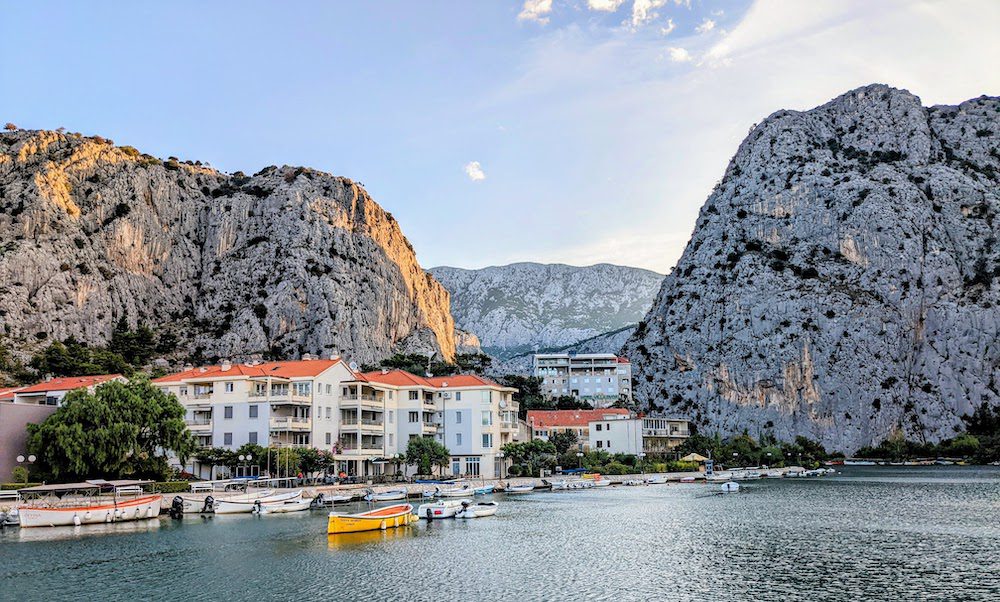 Brač i Omiš
Since my last update we've: completed our fast, moved to a new city, rock climbed and hiked, and visited an island. We also figured out longer-term housing and submitted our Digital Nomad Visa application!
Read on and I'll take you through the happenings.
Fast and Rose' Birthday!
Fasting is super good for your health for loads of reasons. As such, Rose and I try to do a multi-day fast at least once per month. It's hard to do when traveling, so we opted to buckle down right away and knock out a 72-hour fast. We do allow ourselves to drink coffee and tea while fasting, but don't consume anything else! If you want to learn more about fasting, why we do it and what our protocols are, let me know in the comments!
As anyone will tell you, the best part about fasting is having completed a fast. We did that, and promptly went out for Rose's birthday. We supped at a local fish restaurant called Muma. Muma is a charming hole-in-the-wall spot off the main drag in a cute and ancient courtyard in the Old Town.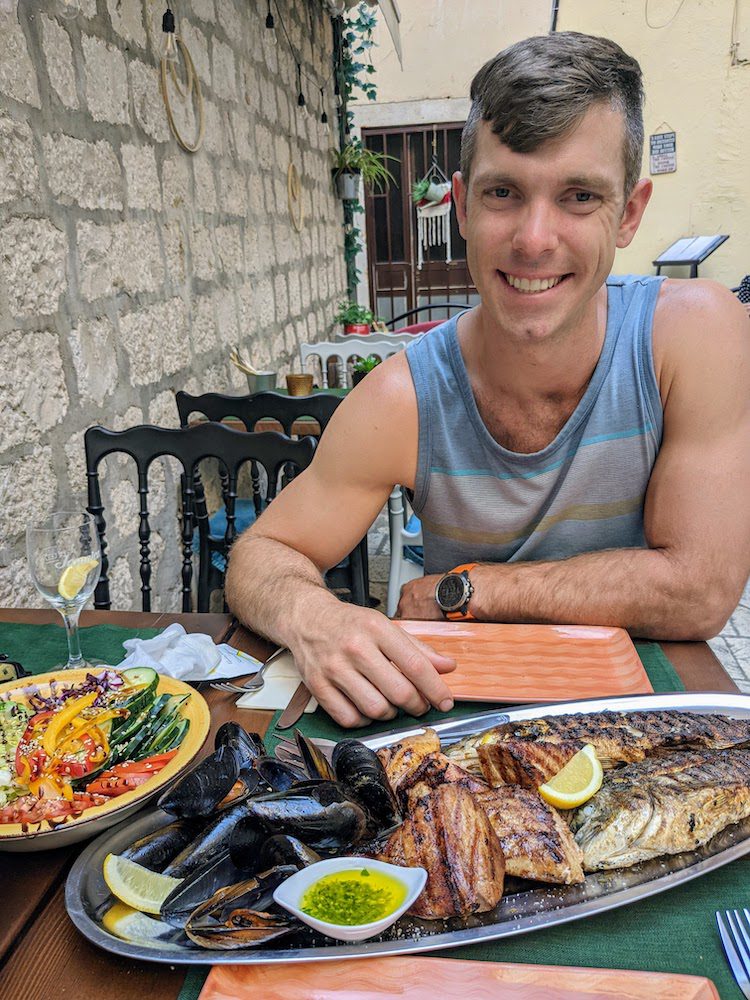 The Island of Brač
We spent the next few days working, training for climbing, and exploring the nooks and cranny's of Split.
Three days after celebrating Rose, we woke up early and walked over to the ferry terminal to catch a 7:45 AM boat to the island of Brač (pronounced "bratch"). We wanted to check out an island but wanted to save the super popular island of Hvar for a less-touristy season).
Brač is the largest of the islands right around Split and has the highest mountain in the Adriatic: Vidova Gora (2550 ft).
We took the one hour ferry ride from Split to the small town of Supetar on Brač. Arriving just before 9 AM, we spent the morning walking around the old town and the nearby beach before stopping by the market for breakfast. Then, we caught an 11 AM bus to our destination for the evening: Bol.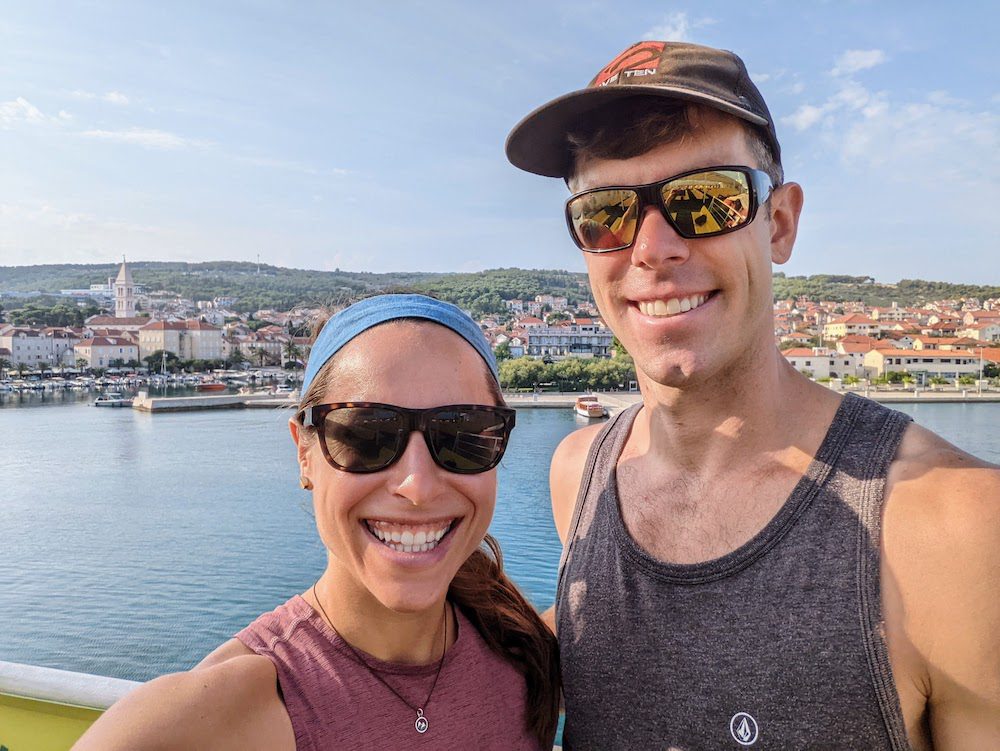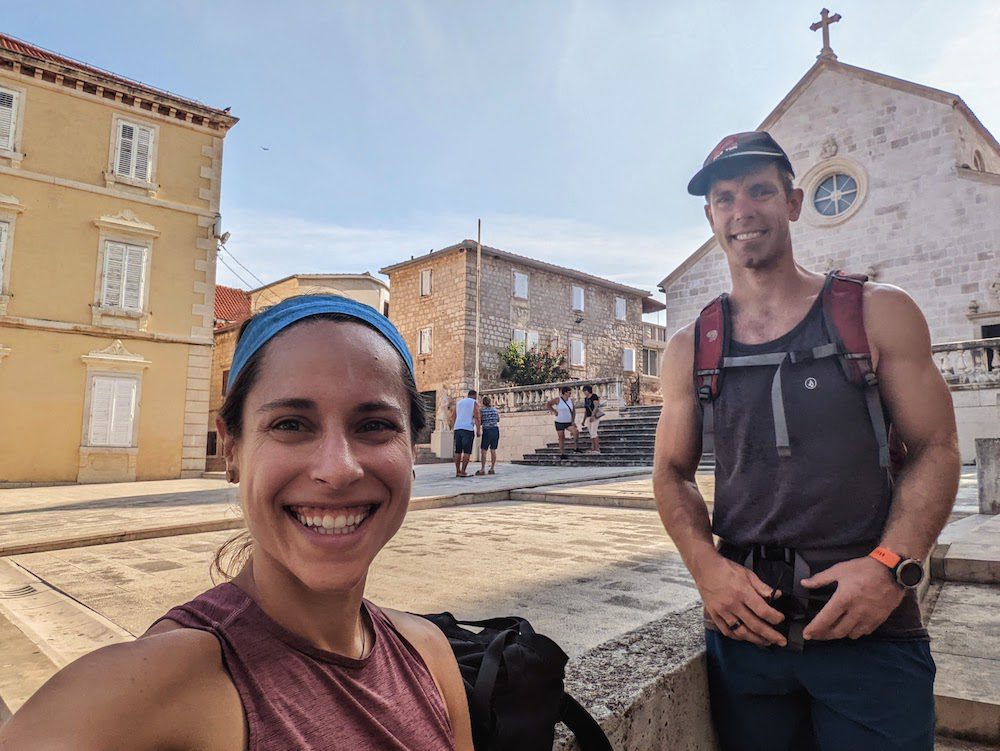 In Bol, we checked into our apartment and then set out to explore the town and check out the beach.
Bol's downtown is centered around its fishing harbor and hosts the best sunset I've seen in a long time!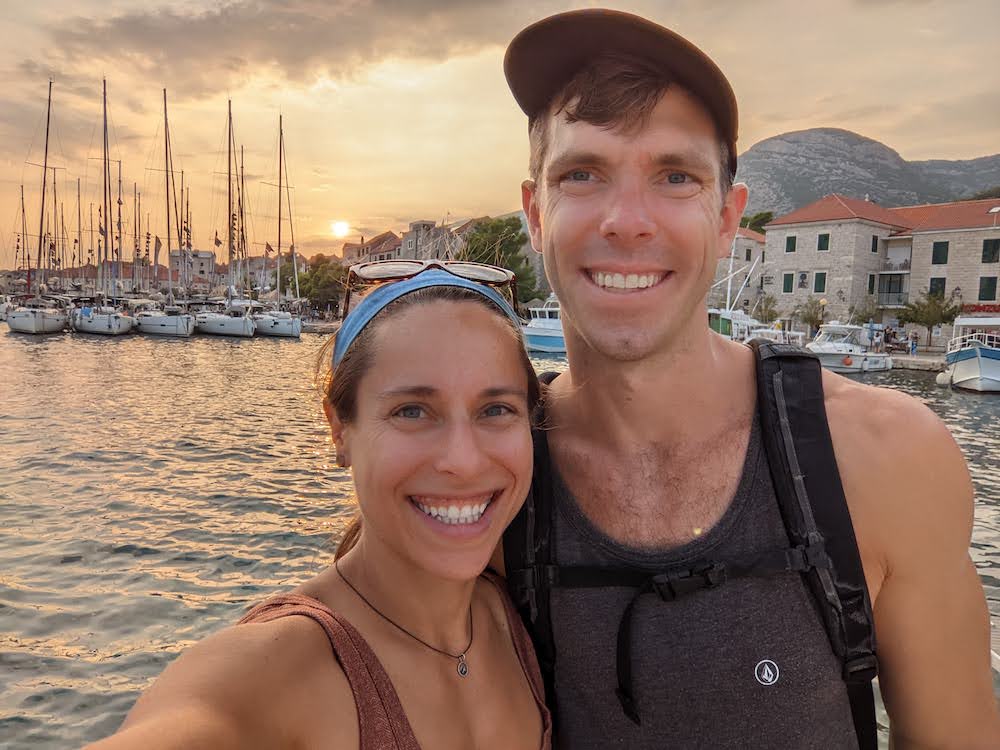 The next morning, we woke up early to beat the heat (it turns out it's HOT here in August) up Vidova Gora. The hike took just a few hours and we had some time to hit the beach and read before our catamaran back to Split.
We spent our last few days in Split working, wandering through the old town, and cooking up fresh sardines we'd buy at the Ribarnica (fish market).
Fun aside: I like recording each of the walks I go on and uploading them to Strava. Strava makes a heat-map with all my wanderings. Here's what Split looks like for me: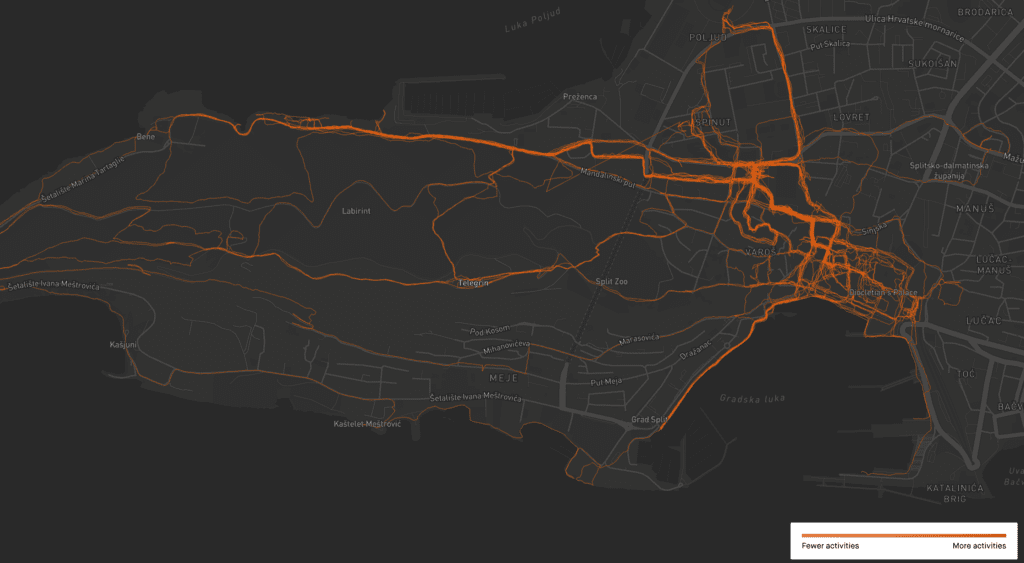 Omiš – our new home!
On September 1st, I picked up a rental car, scooped up the family, and we drove the 45 minutes south to Omiš. A few seconds ago, I wrote up the description for Omiš and realized I sound like a broken record. Charming old town, picturesque harbor, nice people, fresh produce. This seems to be standard for Croatia. At least along the Adriatic coast.
Omiš has one thing that Brač and Split don't: shaded rocks to climb walking distance from downtown!
That afternoon, we settled into our new top-floor apartment (with the best view from a place that I've lived in), made dinner, and went to bed. But not before enjoying the view from our apartment: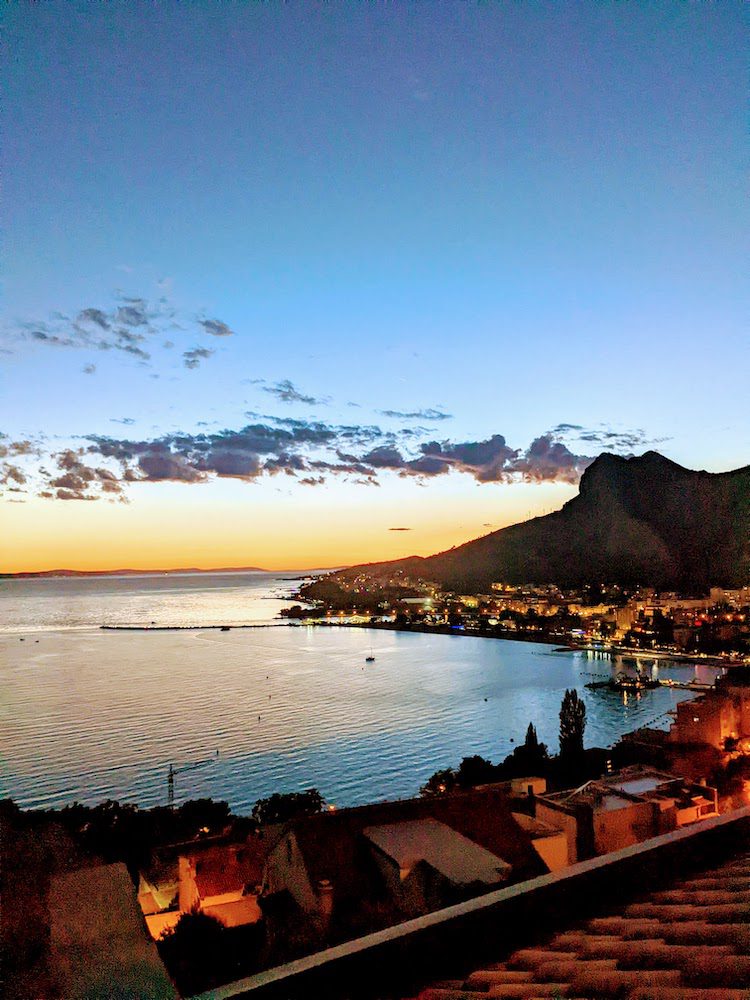 In split, we bought a Croatian climbing guidebook and used to to find a great crag just three minutes out of town. Obviously, we're working to become fixtures there and have already climbed there a few times. Rose is recovering from a mild finger injury, so we actually have not been climbing as much as we both want. As such, we've been spending much of our time hiking in the mountains. Due to the fantastic location of our apartment, we are able to leave for many of our hikes from our front door.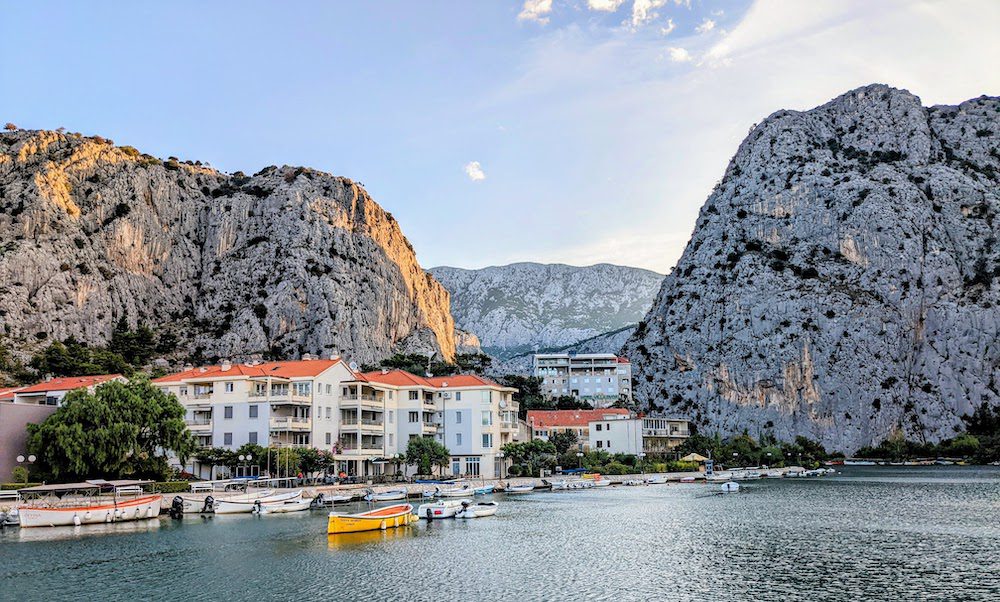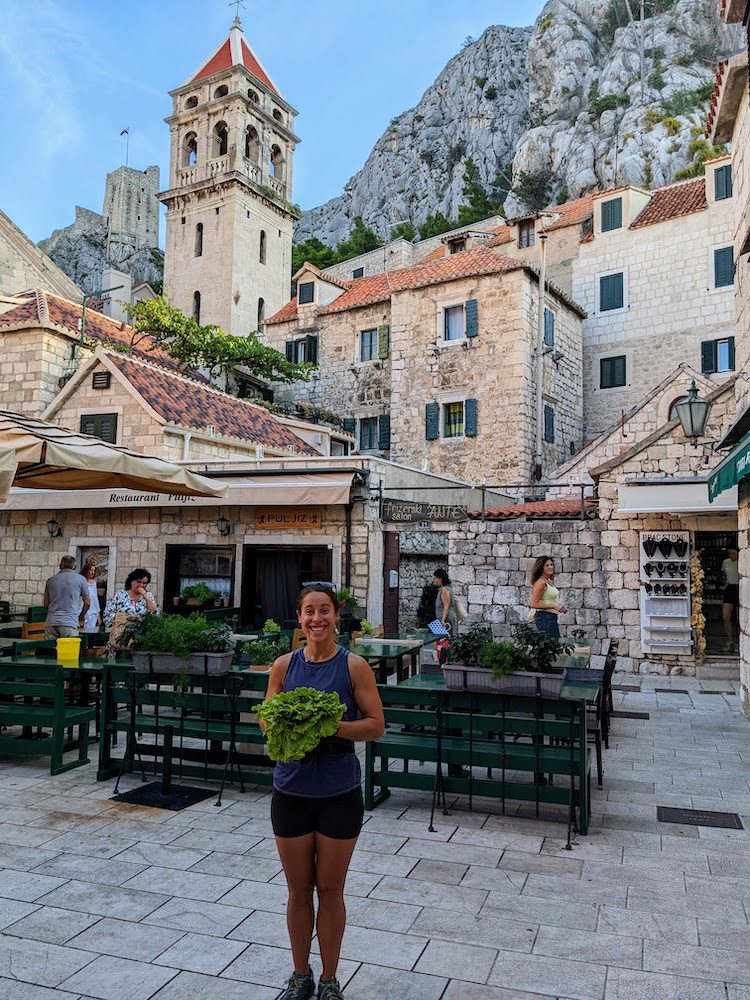 Hiking Around Omiš
A few days ago, we drove an hour and a half to hike Dinara – the highest peak in Croatia. As mentioned in my first post about Croatia, here, we have a goal of climbing all the highest peaks in each Balkan country. Dinara ticks off our second after Triglav in Slovenia.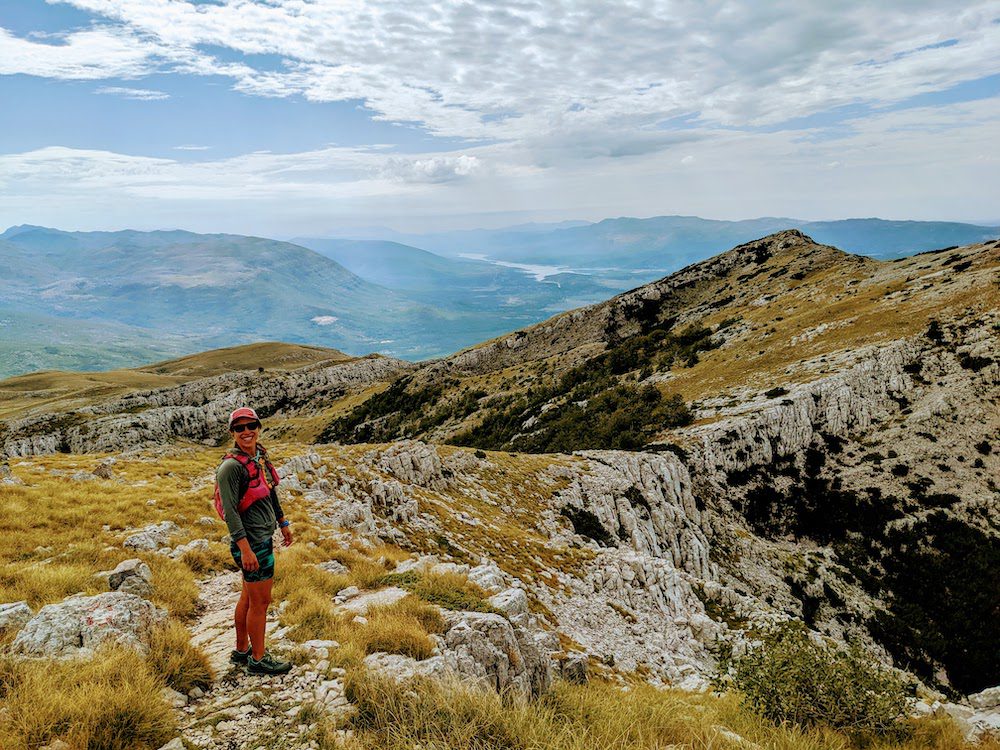 Round trip, the mountain took us just over 4.5 hours and 9.9 miles. The trail was of pretty high quality and was fairly runnable.
Lots of the other hiking we've been doing recently has been on much more challenging (less well-built) terrain. More scrambly, steep, and loose. I don't mind this type of trail too much, but it does make for some slow going.
This is more of a typical Croatian trail: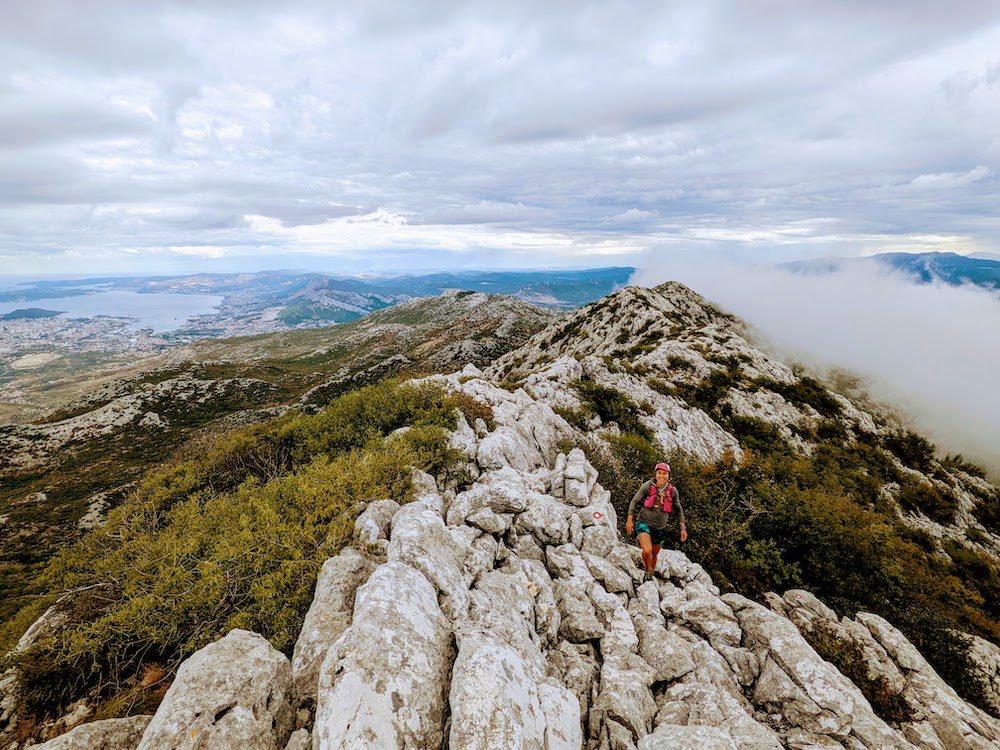 Despite the challenging terrain, it is SUPER scenic!
Up Next
In the next few weeks, we have some travel and more adventuring coming up and are looking forward to slightly cooler weather.
We made an agreement with a local landlord in Omiš who is giving us a month-to-month stay in one of the apartments he owns. A month-to-month rental agreement enables us to keep our flexibility high.
We also submitted our Digital Nomad Visa application last week and have been told that the application should take about 30 days to process. Application approval will allow us to stay past the end of November when our tourist visa expires. Fingers crossed!
Thanks for reading!