Bosnia and Herzegovina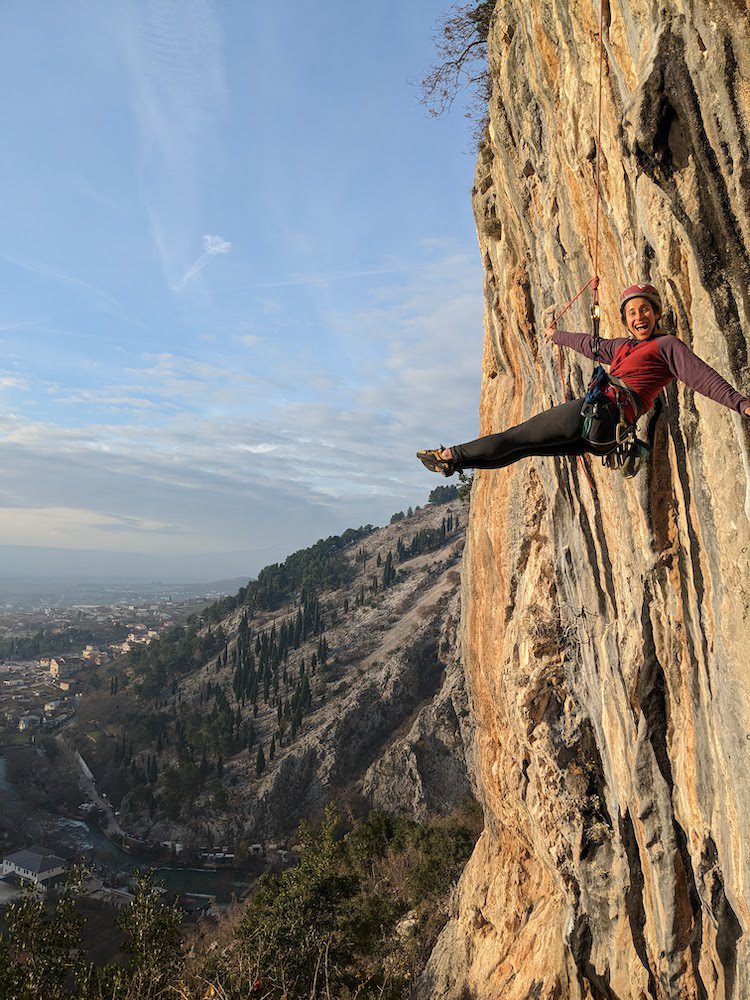 Getting the Most in Mostar (Bosnia and Herzegovina)
With a little bit of Italy, Malta, Hvar, and Belgrade mixed in.
We spent most of December in a Unesco World Heritage site. Named (in Bosnian) for it's old bridge, Mostar nestles between three mountains in the southern part of the Balkan country of Bosnia and Herzegovina (BiH).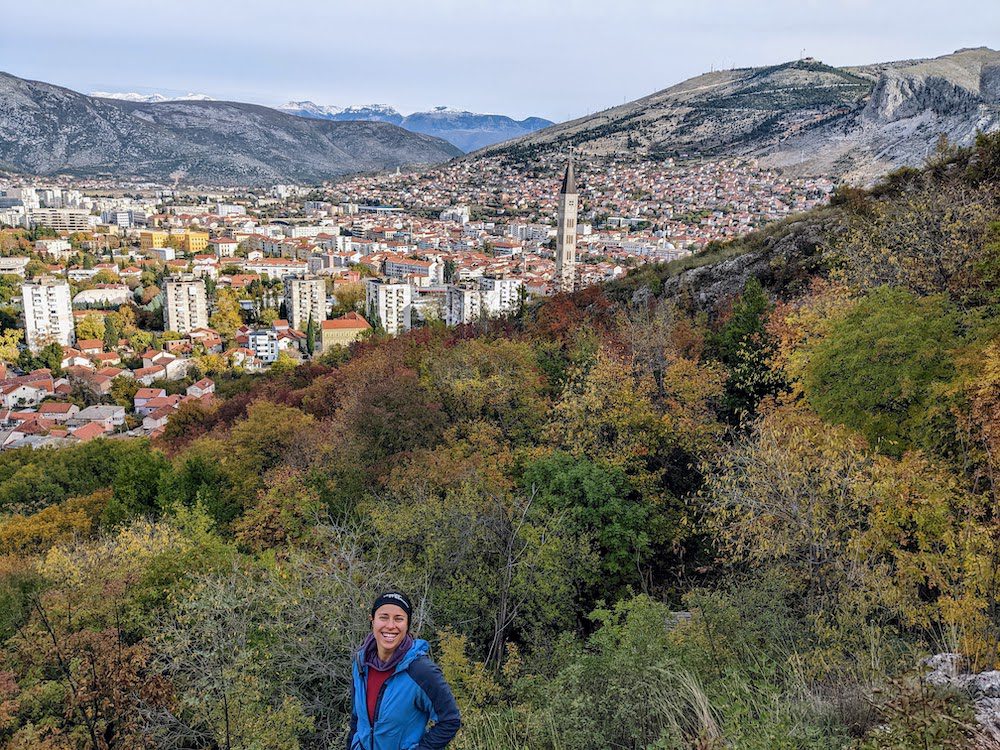 Mostar is most known for it's medieval bridge and Ottoman-style old town.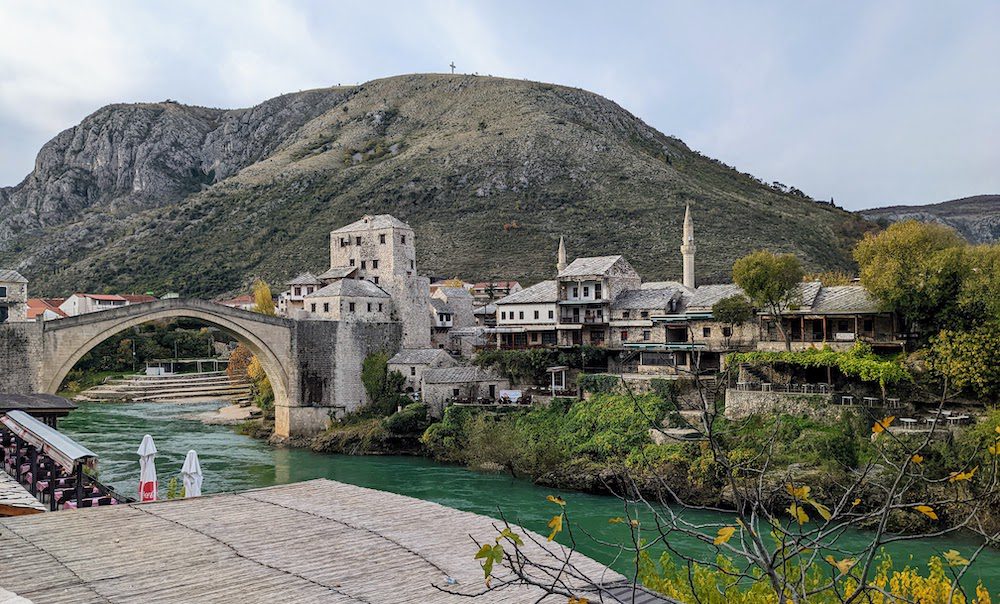 The Siege(s) of Mostar: Recent History
Mostar's more recent history quickly becomes apparent to anyone who ventures outside its old town. In the mid-1990's the town saw some of the worst of the Bosnian War brought about by the dissolution of Yugoslavia.
In the Spring and Summer of 1992, the ethnic Croatians and Bosniaks fought alongside each other against BiH's ethnic Serb population. During this siege, The Serbs committed atrocities against the Muslim-majority Bosniaks and Catholic Croats alike: shelling civilian residences, mosques and churches. After a few months, the siege weakened and the battle lines moved elsewhere.
In a horrible plot twist, the following Summer the previously friendly Croats and Bosnians turned on each other. The city turned in on itself as a battle line was drawn along a highway going through the center of town, highlighted below. Croats on the west side verses Bosnians on the east side.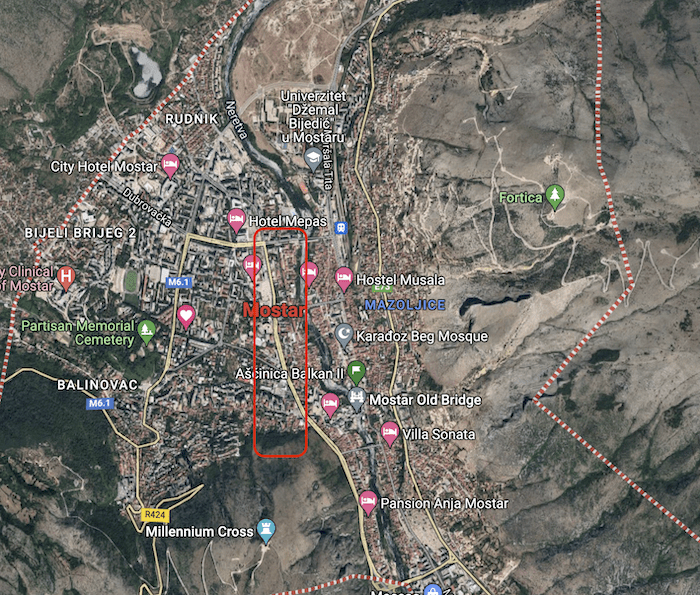 As the battle reached full intensity, life expectancy was measured in mere minutes for residents on either side who ventured out of sheltered basements. People previously friends, family, and neighbors fought each other on opposite sides. They targeted anything that moved across the battle lines with grenades and sniper rifles. The battle killed 2,000 civilians and destroyed countless buildings.
In November of that year, Croat forces bombed the 500 year-old bridge that had been a symbol of so much in the city and it fell into the river.
I can't do this insane and complex battle justice. To learn more, you should visit Mostar and go on a walking tour with the guide we used: Sheva at https://www.mostarfreewalkingtours.com/.
After about 10 months of this second siege, all parties signed a peace agreement in Washington D.C. called the Washington Agreement. The fighting was over.
Mostar Today
The city rebuilt and reconstructed the bridge in the historical fashion and in the last 30 years, much has gone back to normal. There are no clear animosities between the Croats and Bosniaks (except during football matches, where the military is occasionally called in to keep the peace) today. However, you can see the scars of war on many buildings and ruins. See the bullet holes on the building below: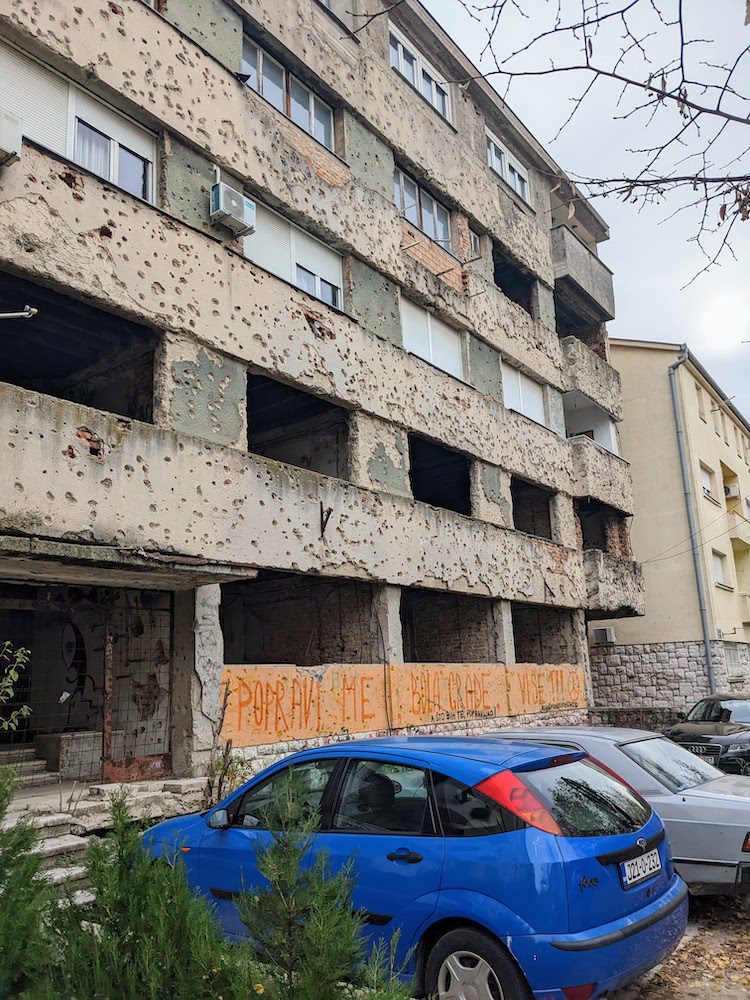 Despite all of this, Mostar is a wonderful place to visit and spend time. While tourists overrun the downtown during the hot summer months, we found a relaxed pace of life in December. The locals are incredibly friendly and welcoming. The old town is charming and we found a serviced apartment in an ideal location for approximately $800/month. The town is surrounded by hikable mountains and there are several national parks nearby. Most importantly, we found an excellent climbing crag just a 15 minute drive away!
What About Croatia?
Before I elaborate on what we did here, I want to describe what we did since my last post! Since our time in Bulgaria we:
Cruised around Rome, Sicily, and Malta with my Dad.
Returned to Croatia and took a ferry to the island of Hvar. Hvar is a massively popular tourist destination for the warm months of the year. However, we found it sleepy and rainy during the two weeks we spent there in November. We spent the time walking around the seaside and working extra hours at our jobs.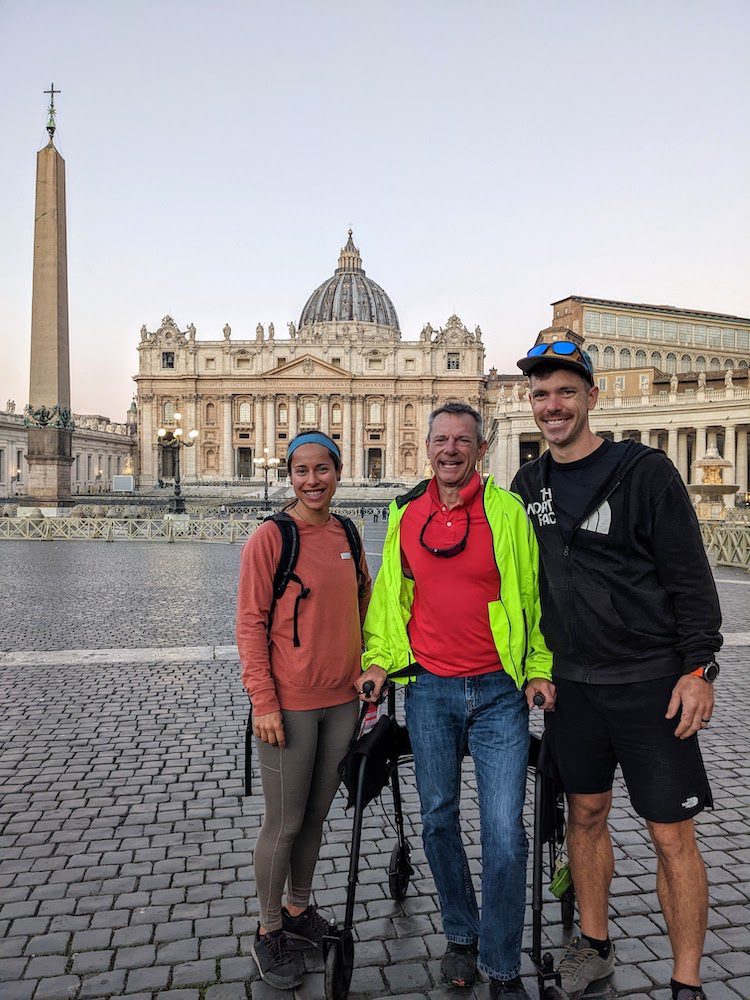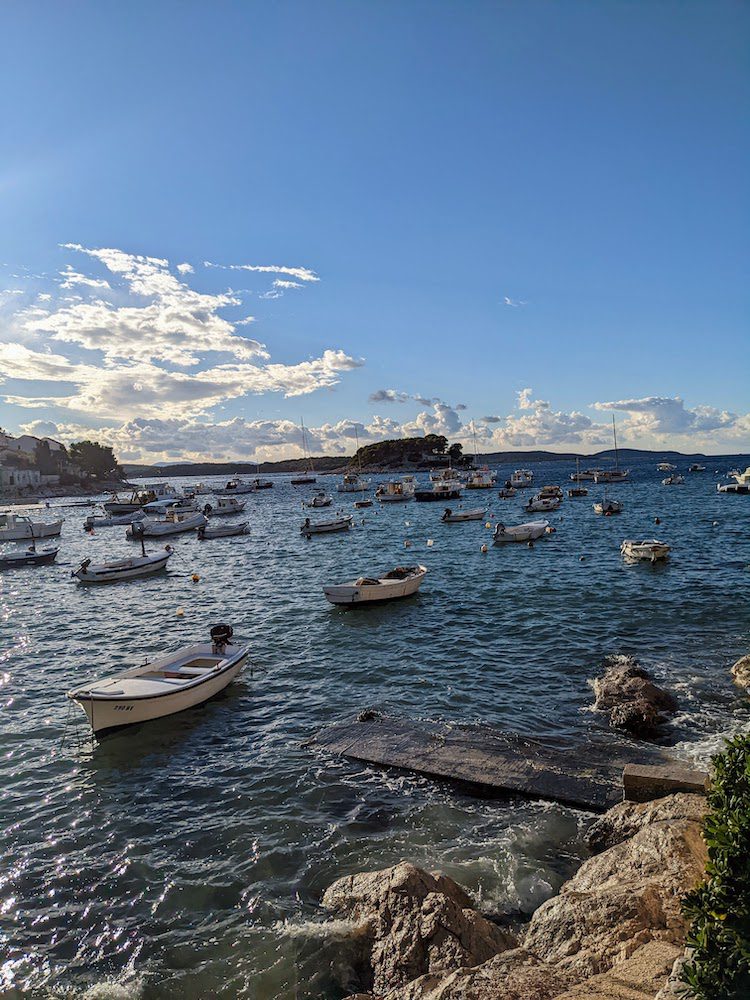 We were also able to sneak in two days of climbing on Hvar in between frequent rain.
Mostar
Finally, the day after Thanksgiving, we packed up the car, drove onto the ferry and were on our way to Mostar! After a fairly uneventful and short drive, we arrived at our AirBnb. As previously mentioned, our AirBnB was a tremendous value. The apartment is a fairly large, two-bedroom spot one block outside the historic downtown.
Every morning Rose and I would walk two blocks out to the fresh and local produce vendors to pick up provisions for the day, then we'd continue on a short loop around the old town.
Climbing, Hiking, and Serbia
We had planned to do a lot of climbing while staying in Mostar at a lovely crag called "Blagaj", just 15 minutes away, but the December weather had other plans for us.
A wet few weeks ensured that we spent lots of time exploring the beautiful parks. In particular, we spent lots of time hiking around Blidinje Nature Park.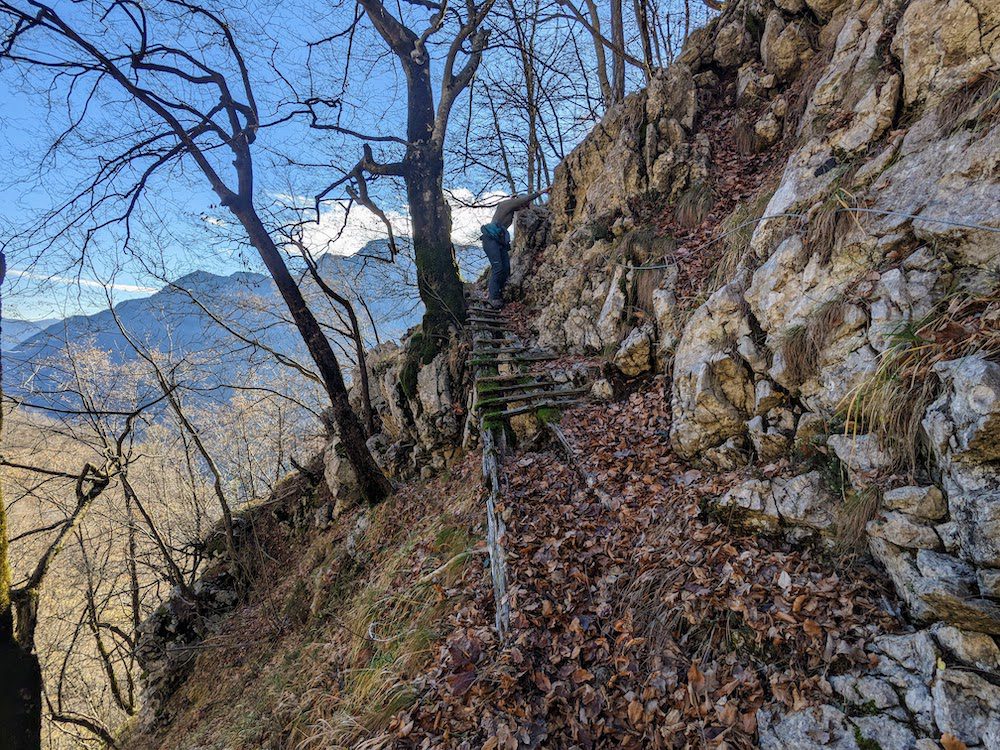 Occasionally, we'd come across a sign reminding us of the importance of staying on the trail.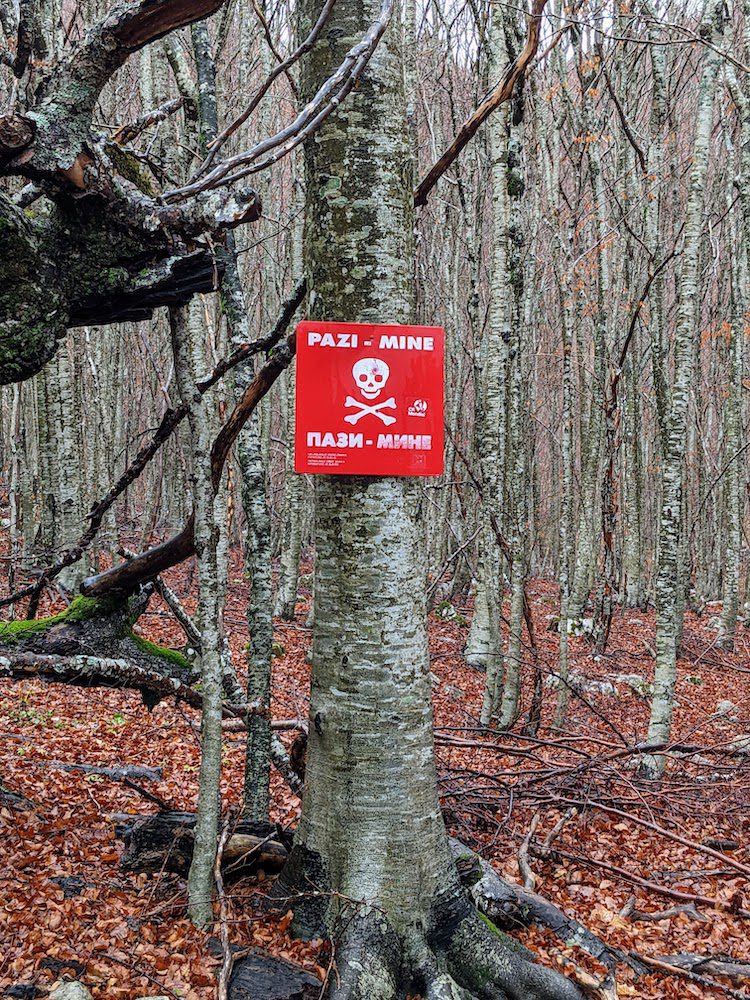 The Train to Sarajevo
The bad weather continued. So we decided to book a five-day trip to Belgrade, the capital of Serbia. We booked a quick 45-minute puddle jumper between Sarajevo and Belgrade for an afternoon in mid-December. We were keen to check out Sarajevo and even more keen to take the famous (and super affordable) two-hour train between Mostar and Sarajevo.
The comfortable journey winds up and down steep mountainsides along the turquoise Neretva river. The train cars were clean and fairly modern. This, despite the ever-present Soviet-feel of the stations.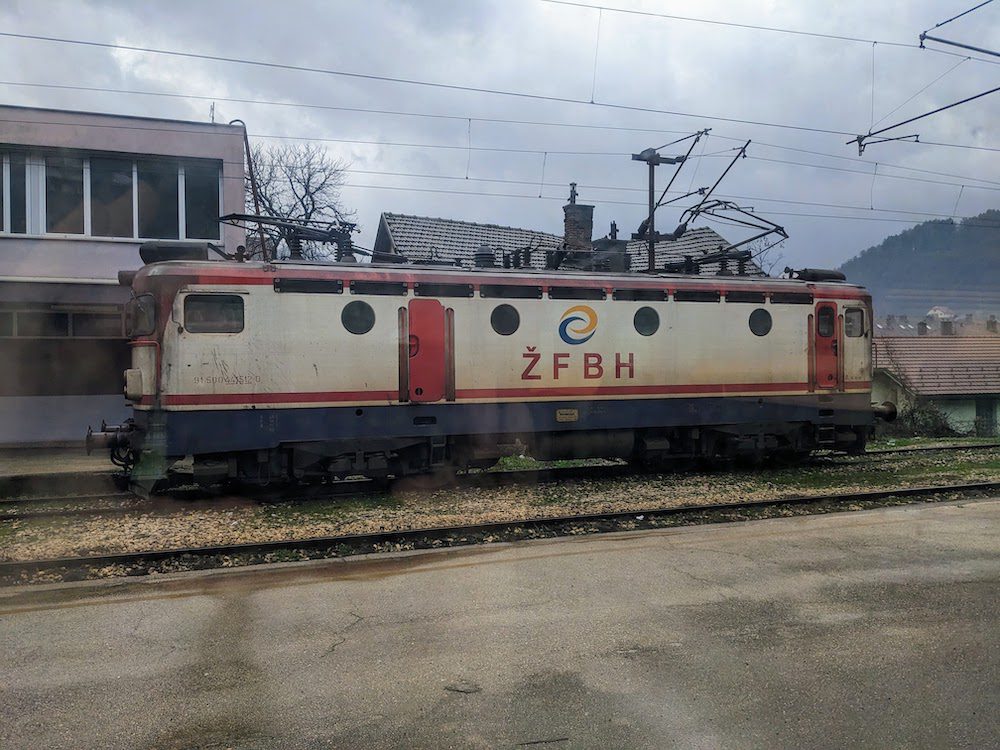 We arrived in Sarajevo late morning and promptly found a highly-rated ćevapi place for some delicious breakfast.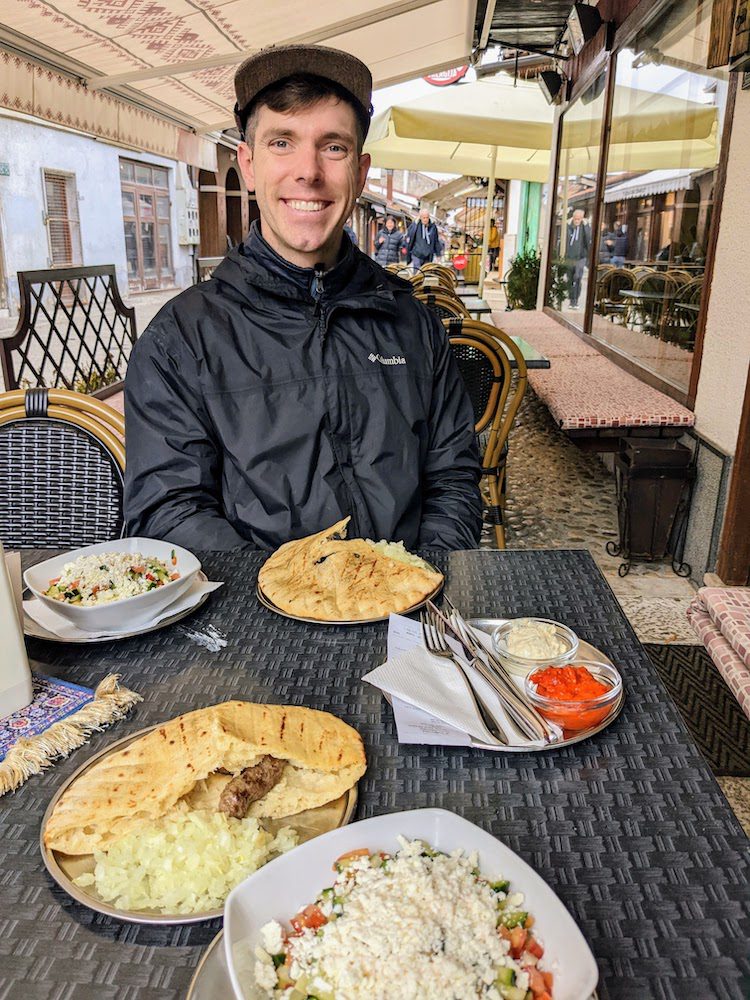 We took a walking tour around the old town and saw where Arch Duke Ferdinand was shot (this started the cascade of events that initiated WWI). We ate a bit more food, then headed to the airport for our short flight to Belgrade.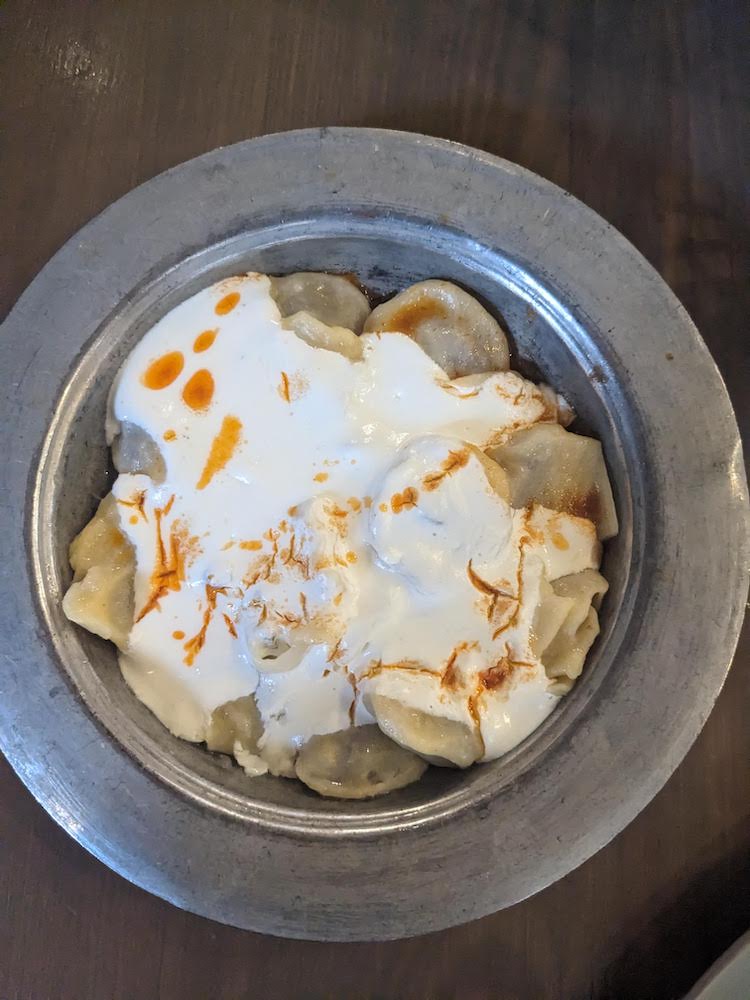 Belgrade
The weather in Belgrade was clear but cold for most of our stay. We enjoyed seeing the charming side streets – particularly the Bohemian area – and going on long walks around the city.
We got our fill of soviet-era architecture. Here's one of the main post office:
A few times, we rode a tram to a climbing gym in town.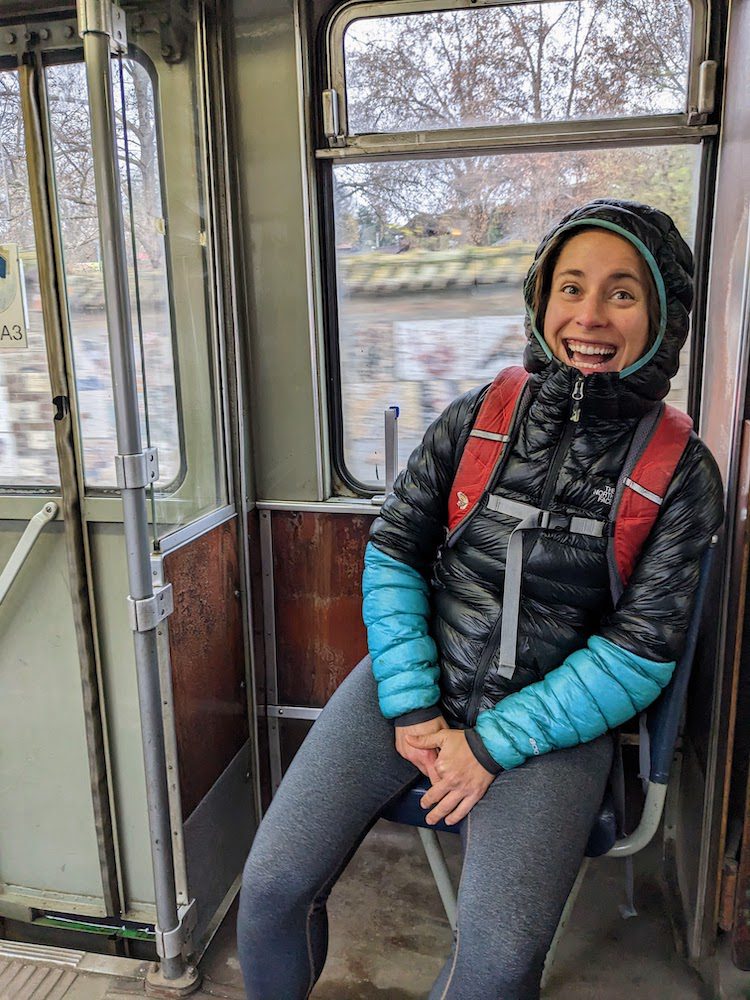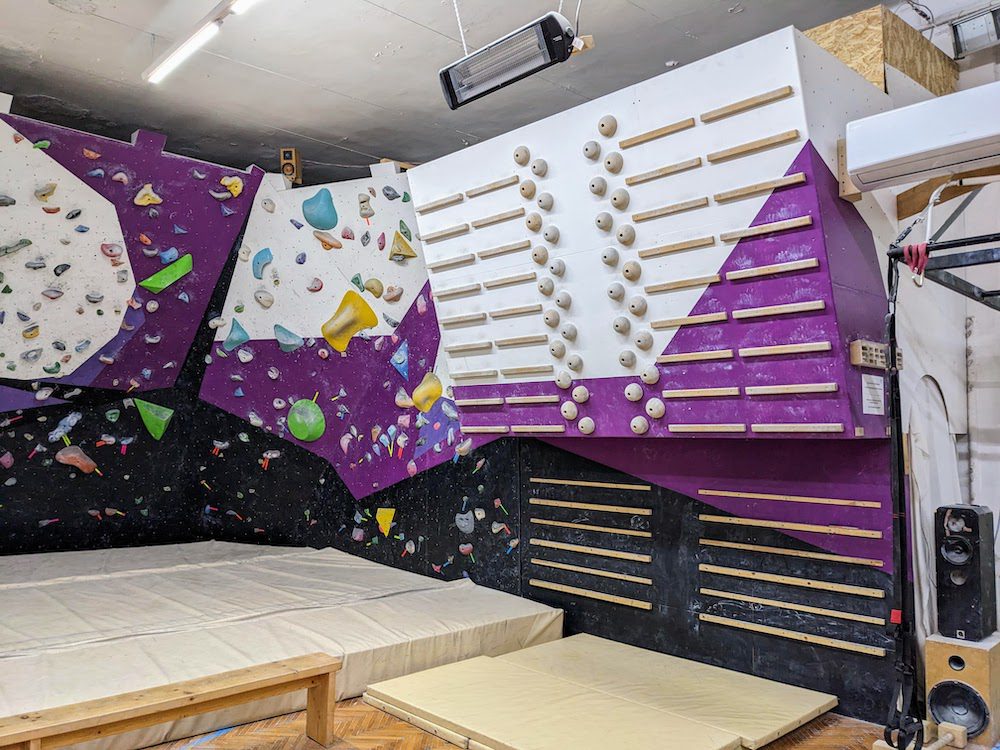 We enjoyed ourselves.
The trip back was slightly less enjoyable. Due to smog/fog in Sarajevo, planes could not land at the airport. Our 40 minute flight was delayed once, twice, three times. After the third delay (and about 5 hours at the airport), the Air Serbia representative told us that the flight was canceled, but that the airline would be providing a bus from the airport to Sarajevo.
After expecting to be in Sarajevo by 4 PM, and a very long bus ride, we finally arrived in Sarajevo at 1:30 AM. We snagged 4 hours of sleep at a convenient AirBnB, then woke up at 6 AM to catch the train back to Mostar.
What a travel day!
Finally, Some Climbing!
After a day of recovery from a not-so-relaxing trip back from Belgrade, the weather turned for the better and we were able to climb! We dusted off our climbing kit, met up with some friends and headed to Blagaj.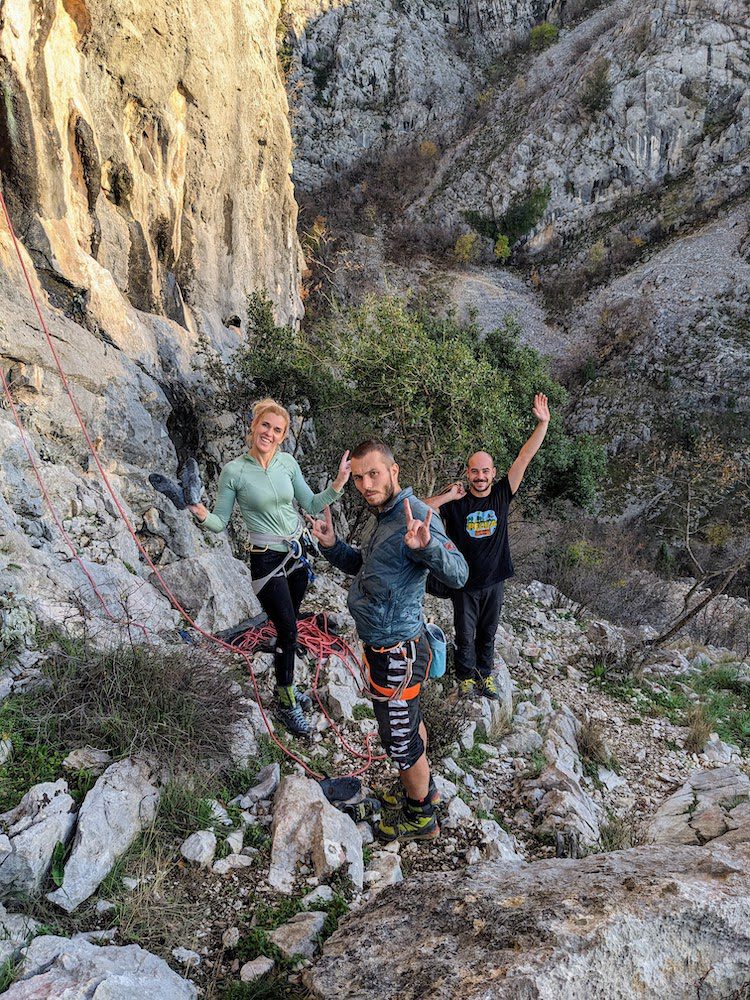 We enjoyed a few days of climbing before the bad weather came back. We made the most of it by doing a few more hikes.
Before we knew it, Christmas had passed and it was time to check out of Mostar and move on.
Highlights
Highlights of the trip include seeing friends we met on a previous trip to Mostar (Aida and Dzevad). We enjoyed eating lots of the local favorite: grilled meat. We made the most of the poor weather by catching up on work and hiking up in the big mountains nearby.
I especially enjoyed learning about Bosnia and Herzegovina's tumultuous past and seeing firsthand how it's recovered and how far the country and its people have come.
Stay tuned for our road trip through Montenegro, Albania, and into our new home: Greece.