Europe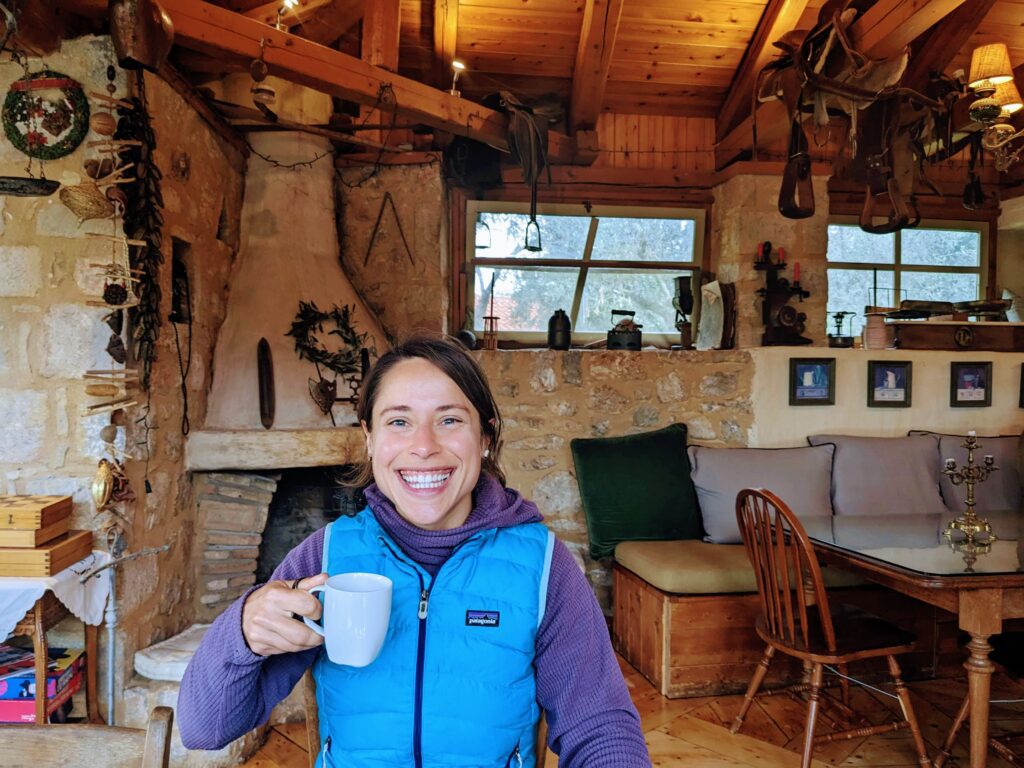 The Menalon Trail
This Spring, Rose and I hiked the Menalon Trail. Over four days, we walked through 52 miles of rural mountains and sleepy medieval towns in the Greek Peloponnese. Following is the story in words and pictures of this wonderful and remote adventure.
The afternoon before we began, we drove from our home in Leonidio to Elliniko. Elliniko is a picturesque, rural village in the middle of the Peloponnese. The village is tucked in rolling hills at the base of some larger mountains overlooking a valley. Due to lots of recent rain, we found it super lush with lots of wild flowers.
Later that evening, we ate moussaka and pork at Georgantes Taverna – a restaurant that has been in their family for like 140 years.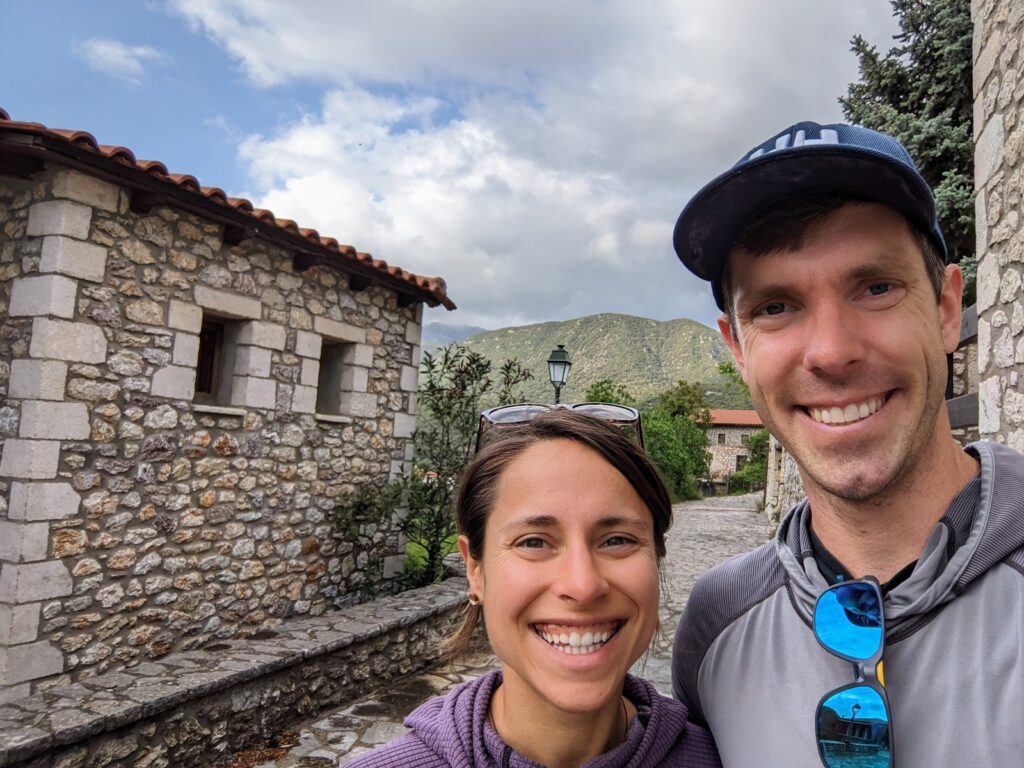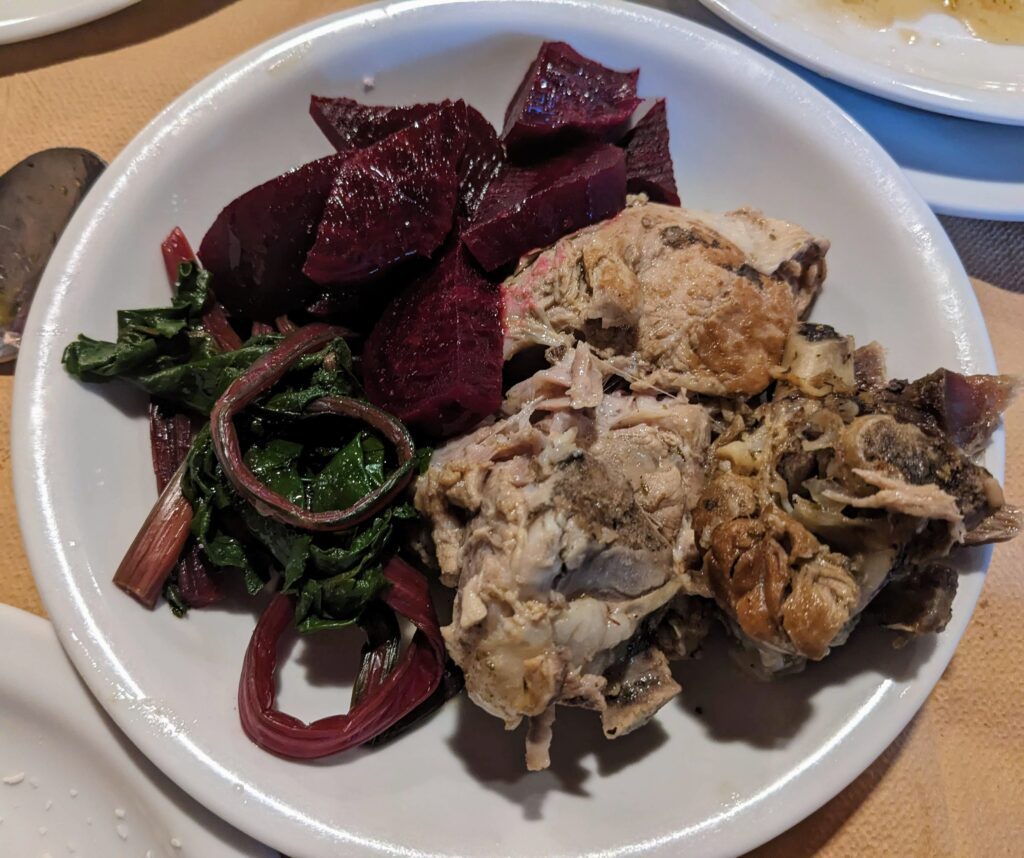 The Menalon Trail Day 1 – Elliniko to Dimitsana
We enjoyed a great night's sleep at our hotel under the watchful eye of a helpful horse. After waking and a little bit of journalling, Rose and I ate a delicious breakfast in the quaint dining room of our hotel.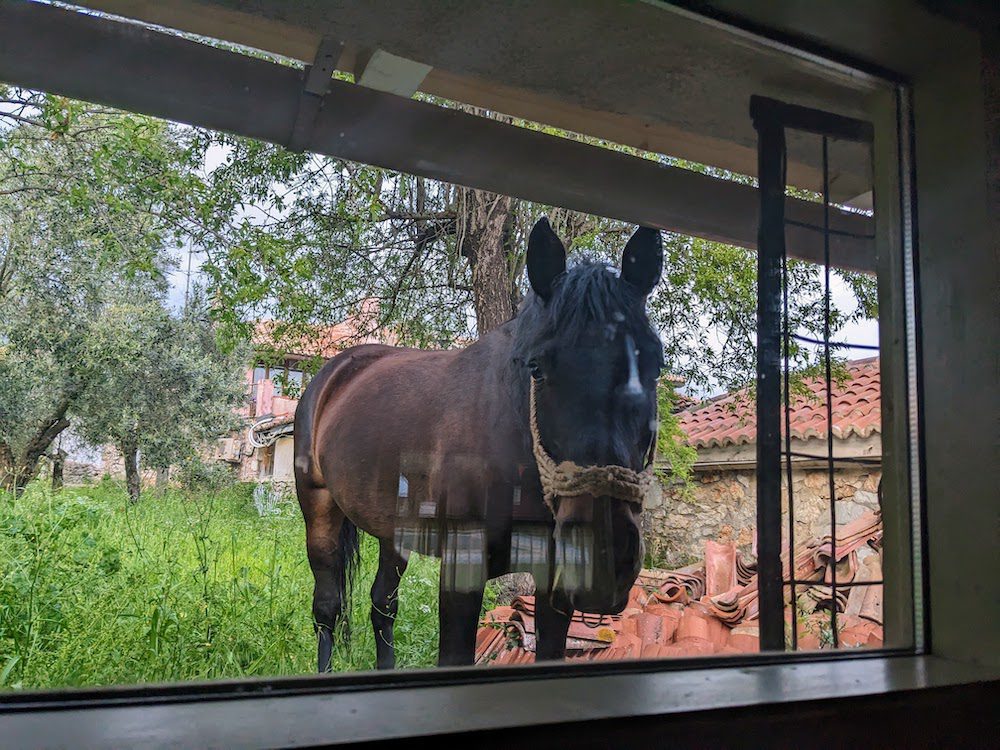 Then, we began our walk! It started a little bushwacky out of Elliniko, but only for a mile or so until we met up with the main trail.
The first short climb topped out at the town of Stemnitsa – the traditional start of the trail. This very sleepy town wears all of old Europe's quaint charm with red terracotta roofs, gray stone construction, and beautiful wooden shutters. Upon entering, we encountered a cute square surrounding a church with some cafes and restaurants and not much else.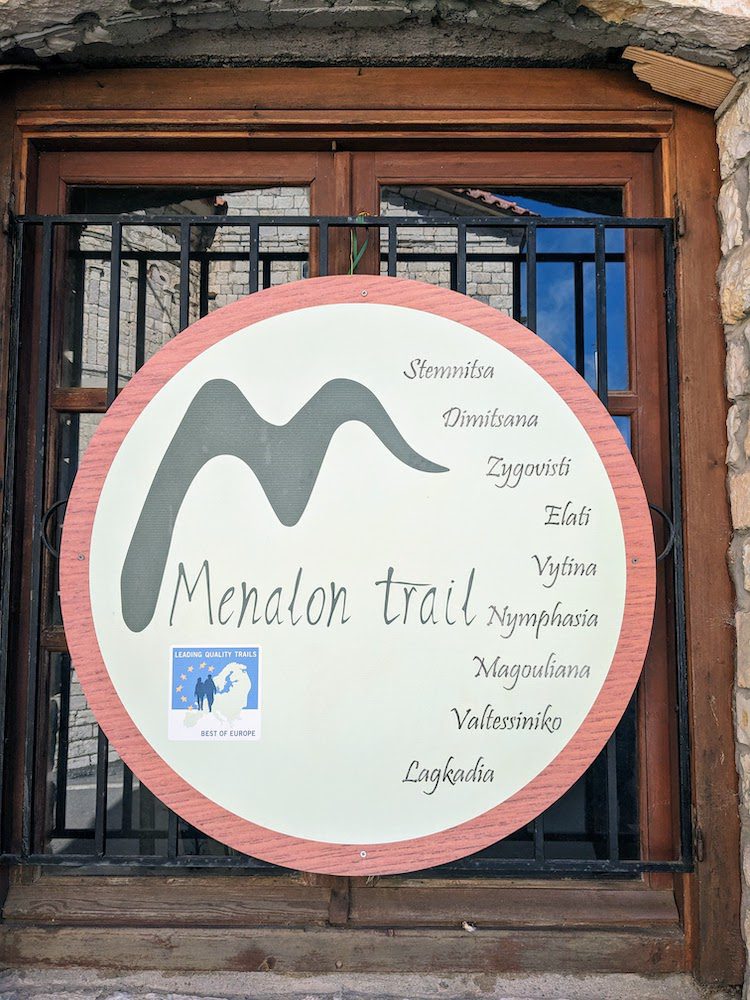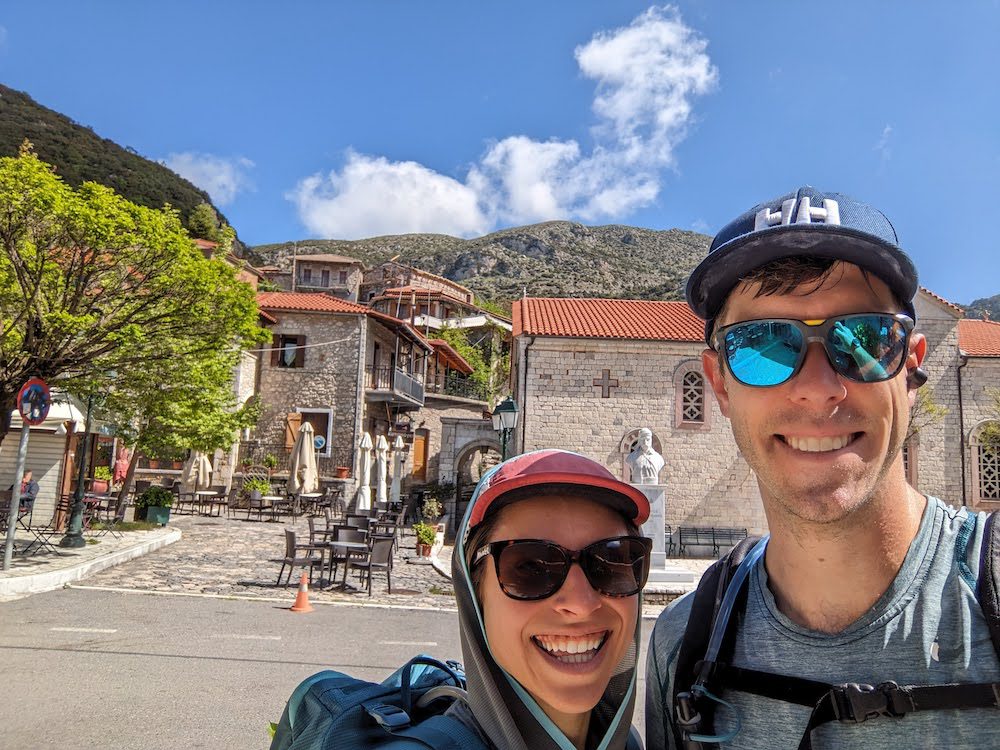 We continued out of town and downhill for several miles, catching glimpses of Elliniko on the way.
After about an hour of walking, we turned right into the long gorge which would serve as the rest of the day's walking and host the majority of the uphill for the day.
Fantastic! We walked past two monasteries on the thickly wooded trail, over an ancient bridge and up and up. I skinny dipped in the river a bit further up which gave my legs the refreshing relaxation they needed to finish the climb in good spirits.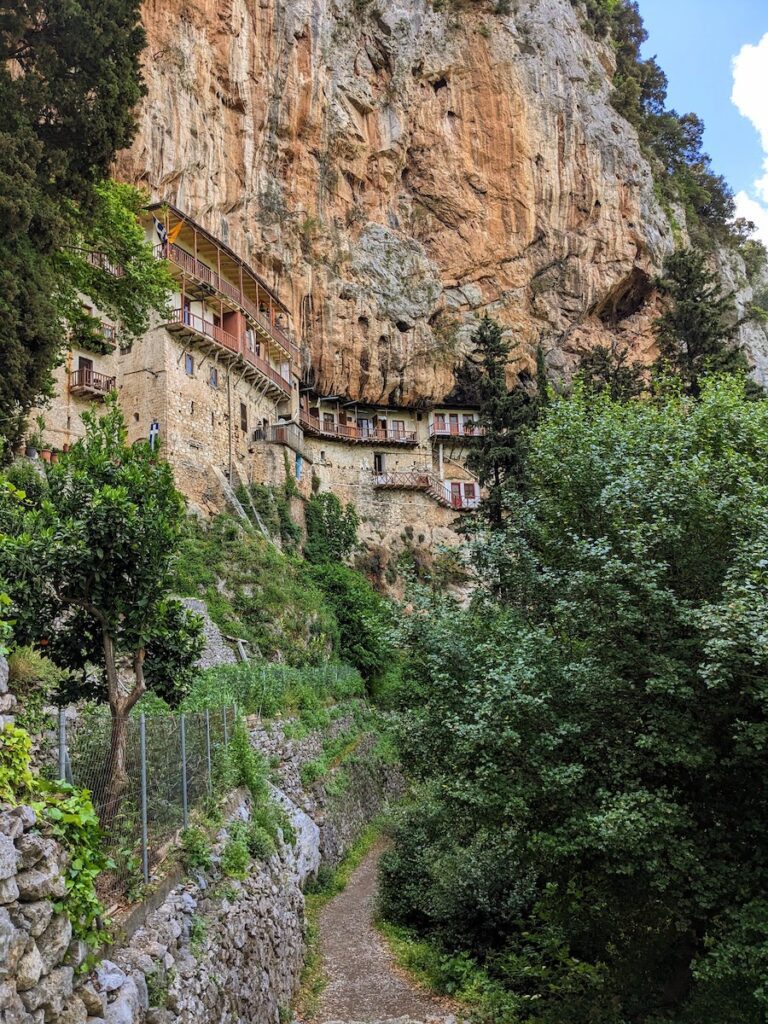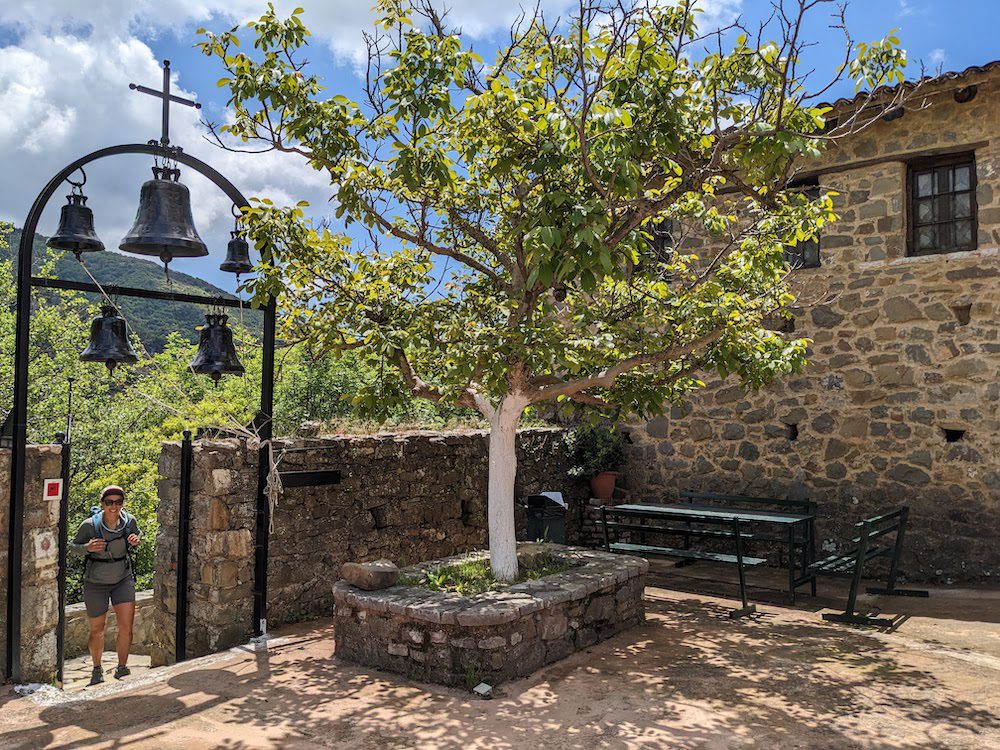 We arrived in Dimitsana with thick clouds building over the medieval hilltop town just before 3 PM.
After settling into our lovely hotel (the Nerida Boutique Hotel), we went to find an early dinner.
We ate a big Greek meal at a restaurant overlooking the gorge we had just finished hiking. Then after dinner, we walked the twisting streets of the old town.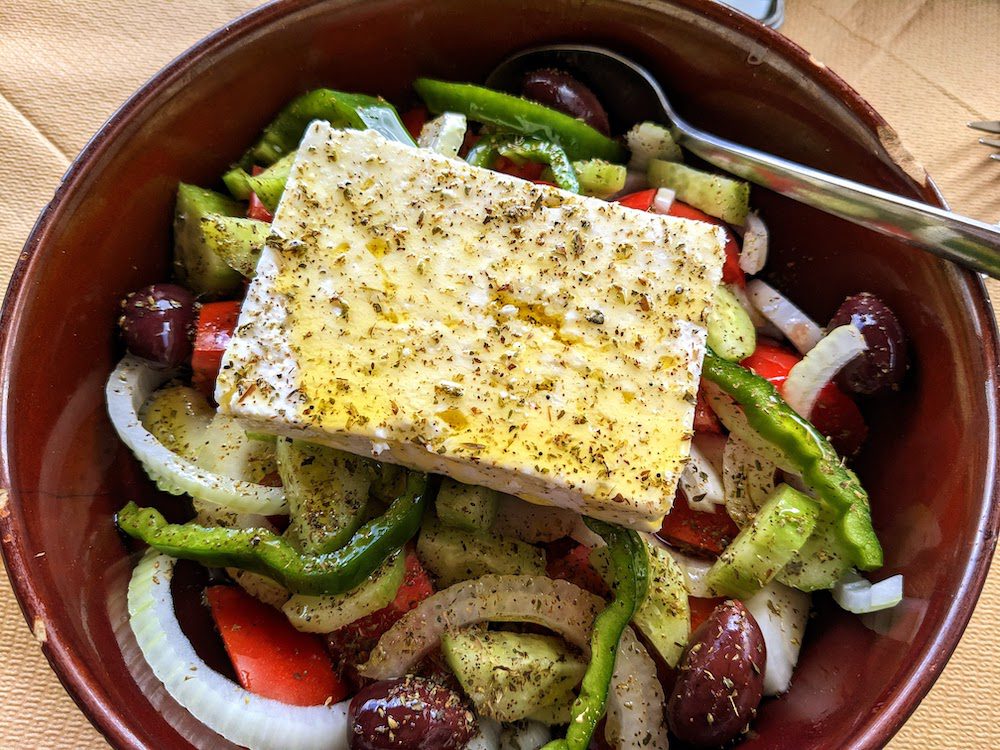 As is normal for us, we turned in early and read for a while on our balcony enjoying the view.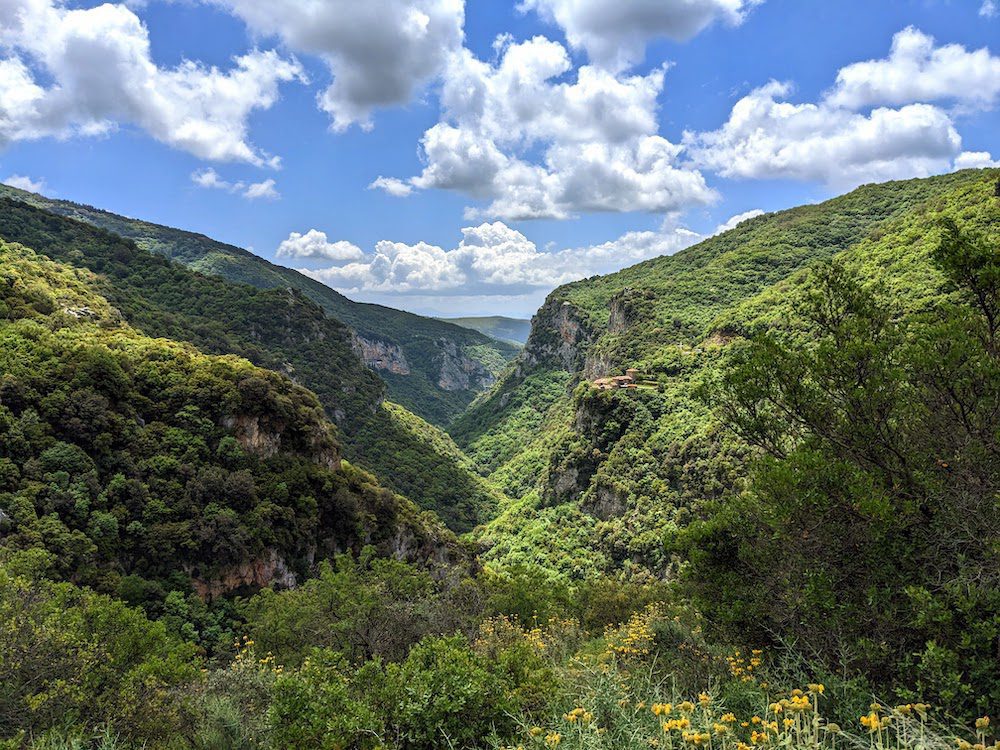 That first day, we ended up hiking 4,300 feet of vert over 12 miles. Just under 6 hours from start to finish.
The Menalon Trail Day 2 – Dimitsana to Vytina
After a bountiful, protein-rich (with a little bit of bread on the side) breakfast at our hotel, we started walking through and up out of town into the surrounding mountains. We chit-chatted about what travel would look like in the future while enjoying the easy terrain. And we kept walking. Mostly up. Through fields of wildflowers. Then a sleepy old town with a few chatty old people out and about. Past a chapel then through thick pine forests.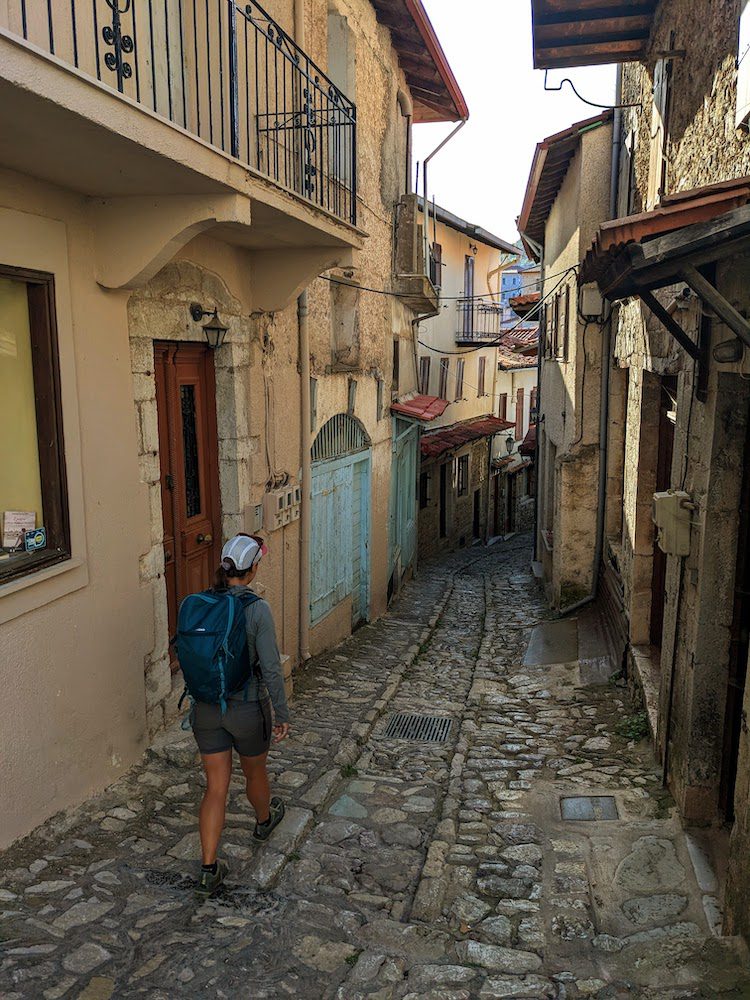 6.5 miles in, we crested the highpoint for the day (5,000 ft) and started to walk downhill. The next 10 miles were mostly a gentle downward walk along a creek that started out as a tickle and ended in a canyon as a full blown river. Not a mighty one, but one nonetheless.
We stopped at a small waterfall for a brisk dip. I never regret those. It breaks you out of the hiking flow and you've got to get wet and cold and then your feet are wet getting back into your shoes. But man, it's refreshing. And memorable.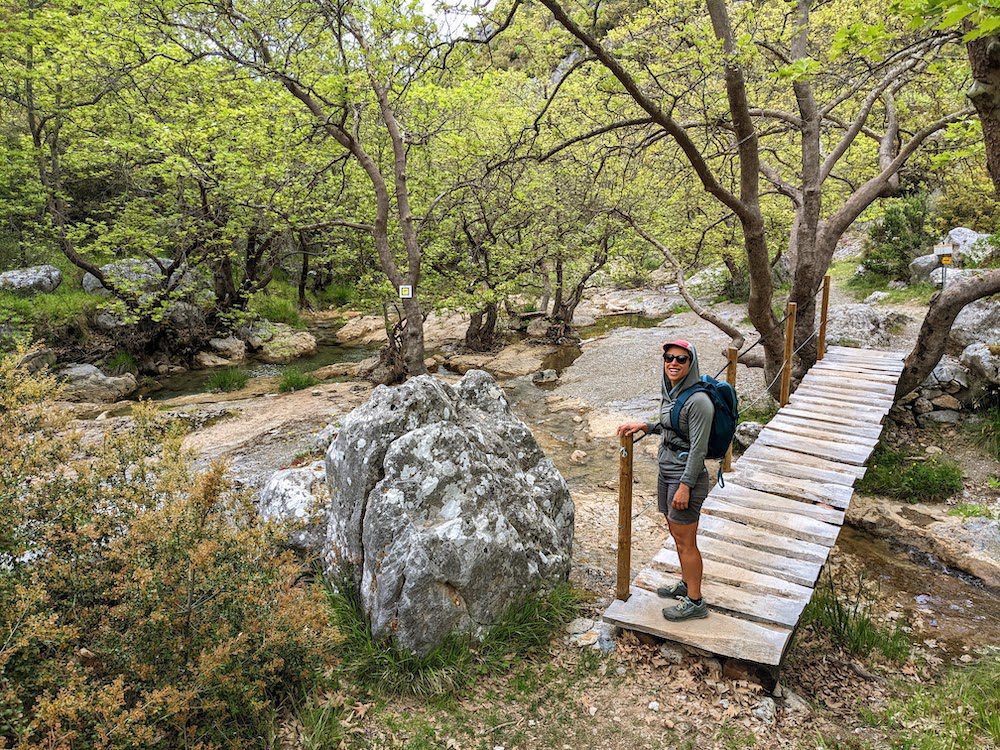 Right around 4 PM, we walked into the town Vytina which was our destination for the night. It is a slightly more bustling old town than those we had seen on the Menalon Trail so far. It was gorgeous with big mountains for a backdrop. We got a delicious (and fairly spendy) dinner at a local spot, walked around a bit, and called it a night.
Stats for the day: 16.1 miles, 3500 feet of gain, 7:15 start to finish.
The Menalon Trail Day 3 – Vytina to Valtesiniko
We ate another delicious breakfast the following morning. We supplemented what was served at our hotel with some yogurt I snagged earlier at a grocery store. I feel my metabolism ON after hiking a few days in a row. We hit the trail a little before 9 AM – immediately downhill.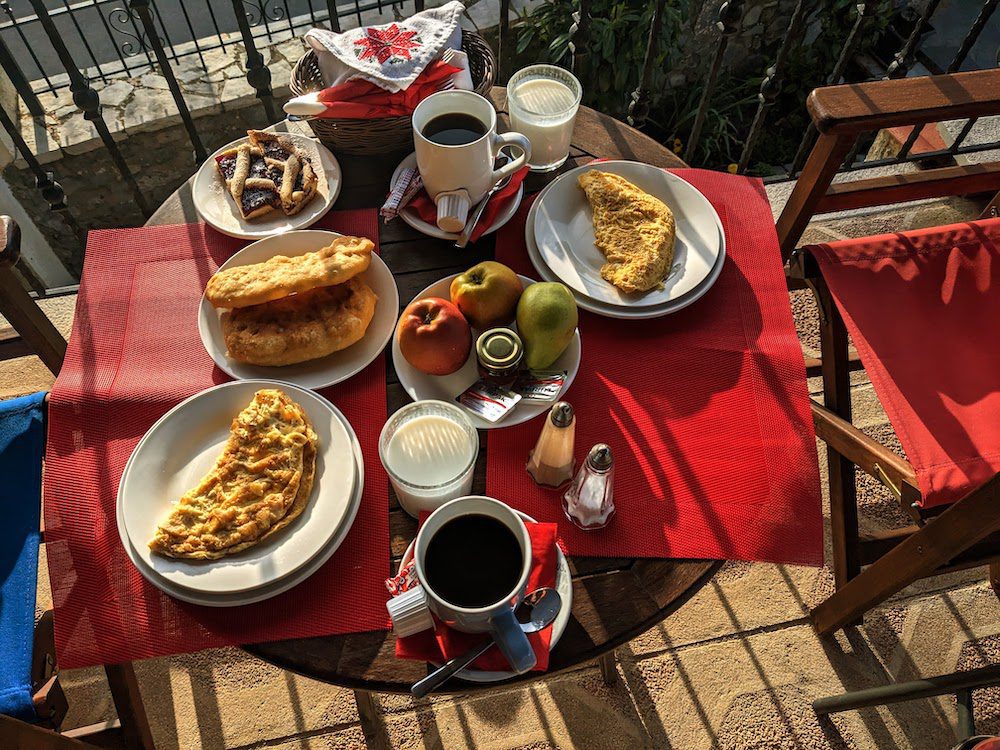 We walked and chatted and listened to books before passing through the small town of Nymphasia. I think that the farther we walked, the more remote it felt. The towns got smaller and the valleys more vast. The occasional farmhouses that dotted the valley are becoming less frequent.
We walked past two monasteries before the trail turned uphill. We entered a deep green forest that made us feel like we were in central Germany instead of Greece. Huge pines and ancient deciduous trees.
The trail took us along a cliff band on a steep hillside. I looked up and noticed a chapel built into a cave.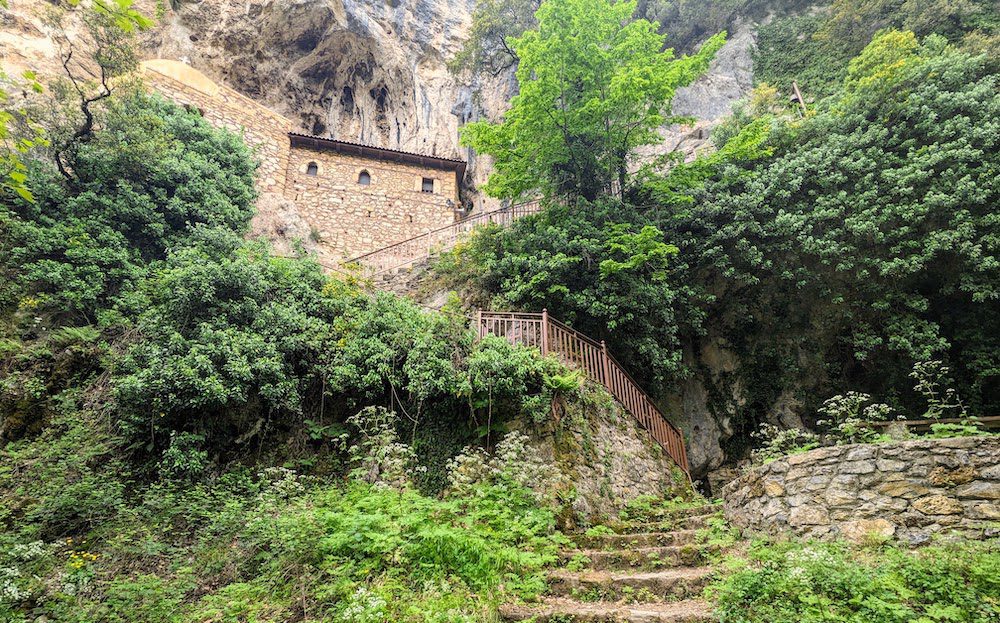 We continued up and up. We stopped for a snack of hard boiled eggs and hazelnuts. Rose had a pear. We continued through another small town where all the locals were gathered at one restaurant.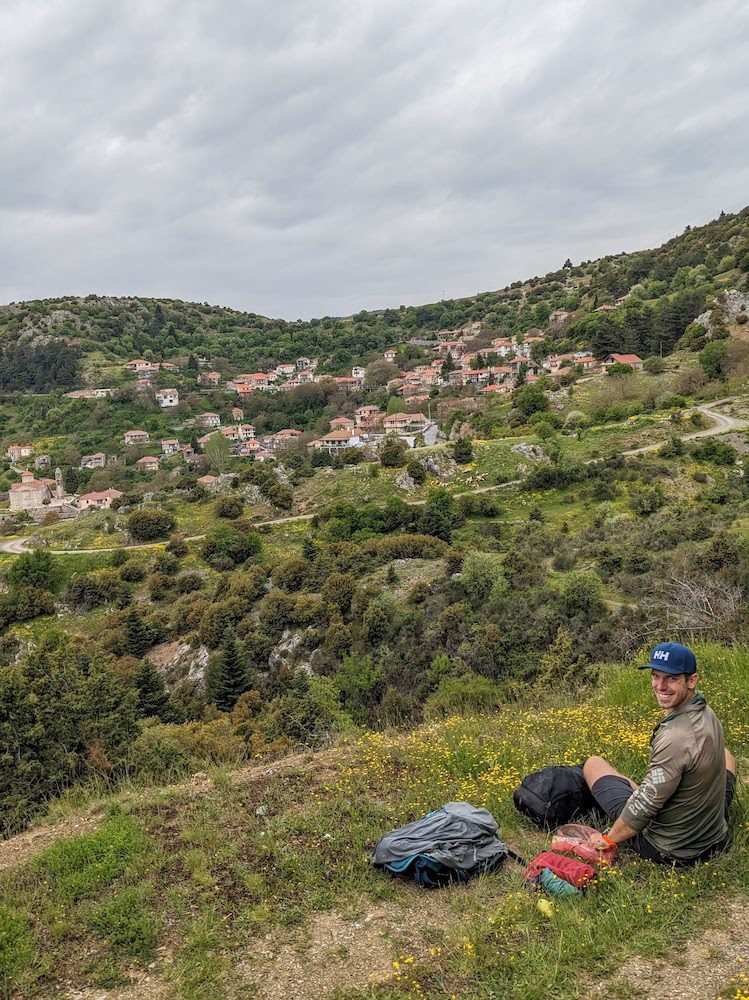 A few miles and lots of dense, green forest later, we arrived at our destination for the night. Several hundred vertical feet from top to bottom, we entered at the bottom of Valtesiniko. Our hotel was at the very top – almost out of town.
20 minutes later we were there. A little tired and hungry by this point in the hike, but grateful for the day and ready to eat.
Dinner was delicious, yet simple and (most importantly) well portioned! We were so hungry we even split one of the two free pieces of cake the waitress brought us after we wolfed down an entire table of food.
Sleep was good.
On the third day we walked 15.25 miles, up 4,000 ft, and it took us 6:10.
The Menalon Trail Day 4 – Valtesiniko to Lagkadia
We woke up, did some of our morning routine, and had another spectacular breakfast. It rained the night before and the forecast for the day was more rain, but as we got ready to go, the weather held off. The sun even started peaking through the clouds.
This (the last) day was to be a short day – 8.5 miles and mostly trending downhill. We set off, excited to finish what we started.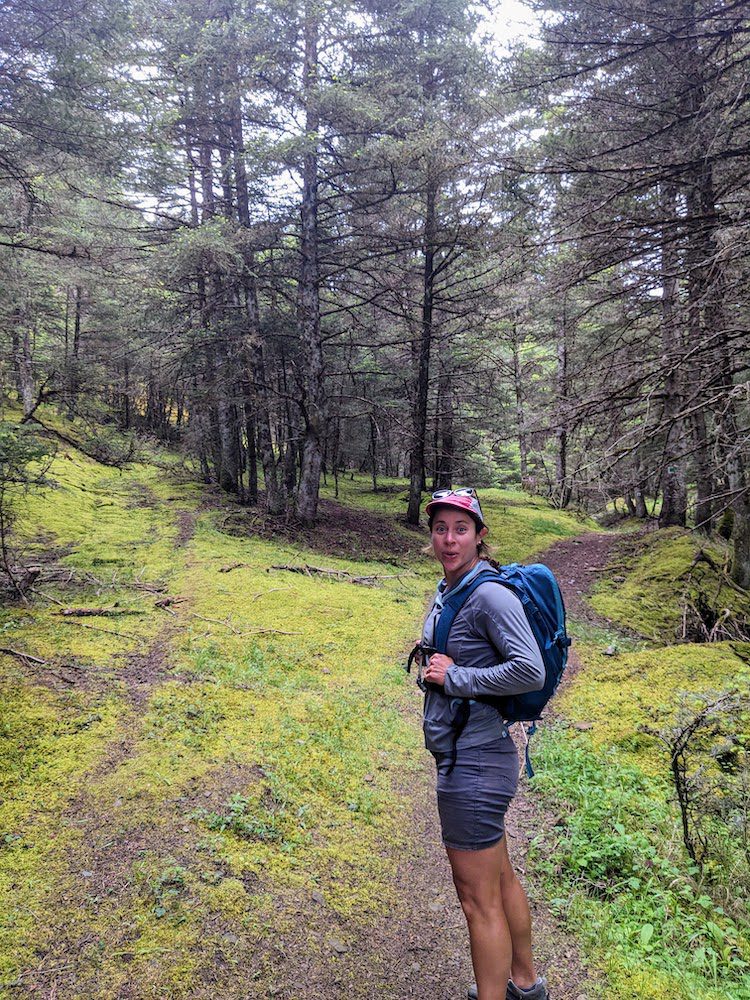 Three hours of wildflowers, rolling hills, and green forests later, we reached our destination. Our taxi was waiting for us in town to take us back to where we started – four days ago.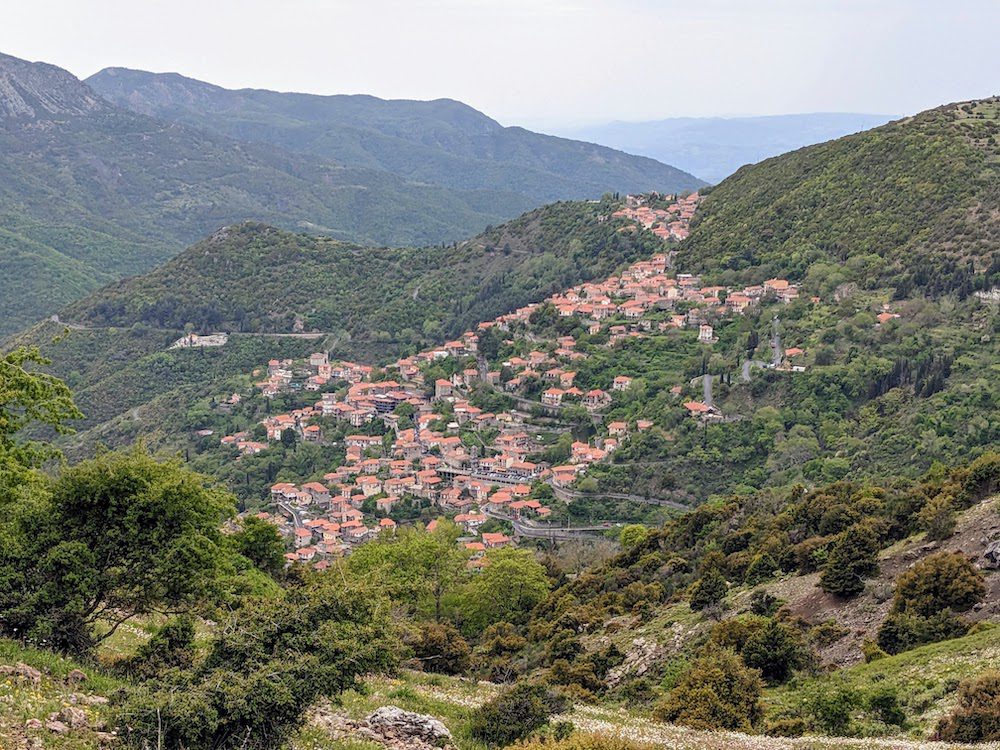 Final Thoughts
The Menalon Trail was so much fun. It is well marked with blazes and easy to follow. There is enough elevation gain to make it challenging, but the grades stayed mild enough that the going never felt hard.
The landscapes are beautiful – gorges, mountains, rolling hills, wildflowers, green. And the trail brings you by many man made wonders – monasteries, ancient water mills, hill top/side towns with tavernas and cafes, and countless stone walls.
The spacing of the towns is such that you can break the trek up into many configurations – 2 huge days, or up to a week of short days (and many options in between).
Conversation with Rose, listening to the Comfort Crisis, Salem's Lot, and Huberman and Galpin were super memorable while walking on the trail . Exploring cute, medieval villages, staying in quaint hotels, reading Bosch at night, and eating our faces off were highlights of the trail!
A big thanks to: https://www.timlloydphoto.com/adventures/the-menalon-trail for providing good GPS tracks and descriptions of each section of trail. Their suggestion to start in Elliniko was spot on!